On August 3rd a group of 120 pilgrims returned from Poland aboard PLL LOT airplanes. Not only did they participate in World Youth Day in Kraków, but also toured Poland. Their itinerary consisted of seeing the following: Warsaw, Niepokalanów, Licheń, Częstochowa, Prague, Auschwitz, Wadowice, Siewierz and Kraków.

Our groups were just a small part of the 1.5 million pilgrims who traveled from all over the world to take part in this unique meetings of Catholic youth with Pope Francis. It is important to note that the World Youth Day events were initiated by St. John Paul II. The first World Youth Day took place in Rome in 1985, with the next taking place in Panama in 2019.
Our preparations began over a year before this special pilgrimage took place. Organizers looked to Classic Travel to coordinate their pilgrimage to Poland not only because of our expertise in Poland, but also because the agency has been a tour operator for over 30 years and an organizer of pilgrimages for almost 20 years.
The itinerary of the 14 day pilgrimage trip was prepared in a way so that young American pilgrims could not only take part in the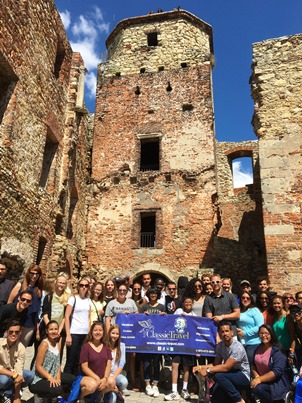 World Youth Day activities, but also see a good chunk of Poland and experience places related to famous Poles, such as: Blessed Fr. Jerzy Popiełuszko, St. Fr. Maksymilian Kolbe, St. Sister Faustyna and St. John Paul II. They visited the corresponding museums and celebrated mass in these locations. They also saw and prayed at the Jasna Góra Monastery in Częstochowa in front of the famous 'Black Madonna' icon. The personal guides in all of these places were Yurek and Peter Majcherczyk, helped by local guides.
All of these efforts led to the young pilgrims from New Jersey to leave Poland impressed with not only how beautiful the country is, but also in awe of the lengthy history and everlasting battle for freedom - which was of course assisted by the country's Catholic faith.
We invite you to join us in Panama!
Classic Travel has already received requests to organize World Youth Day in Panama City in 2019. We invite all groups to join us on our journey. Our agency has been organizing trips to Panama since 1988 and Yurek Majcherczyk has traveled there since 1980.