Irena Jarocka

Singer

"At Classic Travel, I've found friends who are always there to help me and I know that I can count on them. Very often, during my various trips I acquire several problems with ticketing, but Classic Travel will always find a way to help me. It's much easier to live with the knowledge that the employees of this company are so responsible and trustworthy. Mr. and Mrs. Majcherczyk's passion are trips and excursions; their travel agency encompasses the most excellent guides for their tours and trips, who through their own unique passion, professionalism, and long-lasting experience, draw clients to an extraordinary adventure of discovering the entire world."
---
Tomasz Adamek

Heavyweight Boxer

"Not only do I buy my tickets from U.S. to Poland at Classic Travel, but many of my supporters from my country and from different parts of the world do it too, traveling to the U.S. to watch my fights. Why do they like Classic Travel? It's because of the delightful ladies, who always wear a smile while helping me and who work at an incredibly fast pace, just as fast as my left hook! However, speaking seriously now - I would recommend this agency's services, because I have never been disappointed with them. And from what I know - hundreds of my fans have the same opinion and that is why I will continue to use them."
---
Darek Knapik

Business owner - Grand Marshall Pulaski Parade 2011

"Professionalism, courtesy, integrity, availability, great tour organization, charisma and tour guides whose passion is difficult to find elsewhere, especially Jurek Majcherczyk's – this is what makes Classic Travel really stand out from other tourist agencies and offices. Therefore, anytime, and anywhere I will recommend this Polish community service Travel Agency that has worked with great success in the U.S. market for over 25 years while surviving crises, clients' mood swings, etc. Classic Travel is like one big family for all of those who love journeys and expeditions."
---
Elżbieta Baumgartner
Financial Advisor (www.PoradnikSukces.com)

"Classic Travel: 'Where Everybody Knows Your Name'
Cheers - one of the most popular series in television history - has earned its reputation mainly, because the viewers felt at home with its heroes. The theme song from this show prompted a bar where the action took place "where everybody knows your name." For me the place "where everybody knows my name" is, Classic Travel, even though I have never been to Wallington, NJ personally. For many years, Ms. Margaret and Ms. Ela handled all of my matters related to travel and I personally travel frequently.
Why? Nice ladies know me by voice, they know my preferences, they know about my previous travels, they have full information about me and my entire family, including my own credit card number. The order of air tickets and hotel bookings is just a short phone or email. Just like at home, at Classic Travel I feel safe. I know that I always get the best price, and in case of trouble, I know who I should turn to. A few years ago my daughter had to fly to Liberia with the school's mission charity. Her teacher spent several hours searching the internet for travel agencies to find reasonable prices. Ms. Ela of Classic Travel quickly found not only a more convenient connection, but also a connection for half the price! Without fear, I have sent my 14-year-old daughter to another continent, while making sure that she had Classic Travel's telephone number in her notebook. Because, my kind friends, by having a number to Classic Travel or even Mrs. Margaret's private cell phone number, every client can feel safe while traveling. This wasn't the only time Mrs. Margaret has helped me and my relatives in times of trouble. She has advised me what to do when it turned out that my plane was diverted to a different airport. She also pulled me out of Florida before Hurricane Wilma hit. When my daughter's flight was cancelled, they took care of everything for her so that she had nothing to worry about. What I love most are the superb group tours organized by Classic Travel and conducted by renowned explorer Jurek Majcherczyk. I had the privilege to travel with Jurek three times and I am constantly thinking of where to next. When traveling with him I can be assured that my trip will be a unique experience, well organized, and competently run. I never buy tickets over the internet, because the ladies in Classic Travel always give me a great and reasonable price and this is the reason why I'm not going to any other tour operators. Even if I had to spare a few pennies over a network - that isn't relevant to me. The Internet will not serve me with advice, will not change my ticket, nor it will pull me out of trouble when I'm far away from home. And most importantly, it will not know my name!
---
Fr. Canon Felix, R. Marciniak
Rector, Most Sacred Heart of Jesus Church, Wallington

"As a parish we wish to express a great appreciation for Classic Travel. As a matter of fact, every element of the pilgrimage, from receiving a newly prepared correspondence to booking flights, hotels, bus rides and sightseeing places including the main course of the pilgrimage and its ending was in the highest degree carefully and well prepared. The main guide of this group pilgrimage, Jan Gac, gave the pilgrims an opportunity to visit various holy places, not only under the aspect of tourism, but also under the most superior spiritual aspect. As pastor of the Parish of the Sacred Heart of Jesus in Wallington and along with Jan Gac I would like to recommend Classic Travel as one of the best agencies for organizing pilgrimages."
---
Halina & Frank Iglar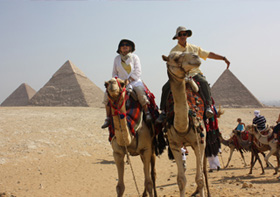 Business owners

"There are many beautiful, historical, and majestic places around the world. Moreover, both the wonders of nature and human imagination - are the greatest treasures, but only thanks to Classic Travel we are able to remember the deepest and most joyful experiences, their customer care, their knowledge and their low prices allow you to fulfill your travel dreams. The only thing that you have to do is pack your suitcases!"
---
Barbara Chlebińska
Immigrations specialist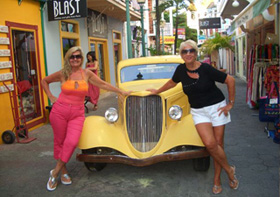 My shortest review for Classic Travel contains only three letters P.P.F.!!! that stand for: PROFESSIONALISM, PERFECTION, AND FRIENDLINESS. Over the course of several years I was on ten group trips organized by the office. Furthermore, in addition to these three letters I can also add another one: a large E, because what I saw and experienced was incredibly EXCITING. Whether it's just visiting the unforgettable and most famous Machu Picchu & Colca Canyon in Peru, the mysterious Mayan city in Mexico and Central America, experiencing the memorable baptism at the equator on board of a yacht during the Galapagos trip, climbing to a height of 5000m at the famous volcano Cotopaxi, or watching over many breathtaking views of the three major canyons in the U.S. and extravagantly beautiful views of the jungle during rafting in the rivers of Costa Rica; all were unforgettable trips that had my adrenaline going! I could go on about my favorite experiences endlessly! These trips were all worth the experience and in regards to the organization, the businesslike and professional service, the smile, and the organizers' great care - simply extraordinary! The owner's own passion for traveling is contagious and entices everyone to not only travel, but to be a part of the Classic Travel family.
---
Dr. Robert Czyżewski
Physician

"It is always with great pleasure that I express my positive views about the Classic Travel Agency, its owners, and employees. I have used Classic Travel for over 10 years and always, while traveling on a vacation or during my work, I use the expertise and professional help of Ms. Margaret Majcherczyk and the other ladies with whatever I need help with. Ranging from simply buying an air ticket to organizing a complex trip to any part of the earth, I am always met with great professionalism, assistance, advice and above all, great knowledge of the places, hotels, attractions, and many other little things in an expedition that are so essential. To this I need to add, the reasonable prices, friendly service, speed, and efficiency! I recommend Classic Travel to anyone who plans to travel in the U.S. and around the world."
---
Dr. Agnes Olszewski-Kondratowicz
Business owner


For over 10 years we've been using the services offered at Classic Travel in business and for vacation trips. Here we find everything that we need: attention to detail and personal consulting. Because of their vast knowledge and experience we are enabled to arrange the best deals for our business and family trips. We are not considered to be easy customers, because our business travel plans often change at the last minute. Of course – just as everyone else – we all want the best and most inexpensive prices. For each of these challenges, Classic Travel is superior in assisting us. And finally, add to all of this personal involvement, a cheerful service and a great staff - you're left with an ideal travel agency to your disposal."
---
Sławomir Gancarz
Business owner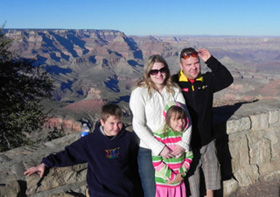 "Classic Travel = full professionalism. What can a client expect from a local tourist office in the Internet era, with such competition? The answer is professionalism, courtesy, a friendly and professional staff, integrity, and most importantly well-prepared trips. And all this, in my opinion certainly distinguishes CLASSIC TRAVEL in Wallington from all of the other Travel Agencies. As a longtime customer of this company, led by Mrs. Margaret Majcherczyk, I recommend all of the services offered at CLASSIC TRAVEL. They offer much more than just selling airline tickets, or mailing packages and money. Not every agency can be proud to offer more than 50 (!) original tours and excursions all over the world and many years of experience. Mr. Jurek Majcherczyk, an elite member of The Explorers Club offers a unique opportunity to travel with the best. Ranging from the expeditions to South America, Alaska, California, Grand Canyon or the recently popular 'Trip Around the World," a few of the many attractive and professionally prepared tours are provided for an unforgettable experience. My family and friends always appreciate the entire organization and the great atmosphere while exploring new places with CLASSIC TRAVEL. In regards to airline tickets, we always purchase them through Classic Travel. Each time they are always well matched and competitively priced. CLASSIC TRAVEL is not just a company, but most importantly they are actually exceptional people, nice, friendly, and courteous professionals."