Mexico & Guadalupe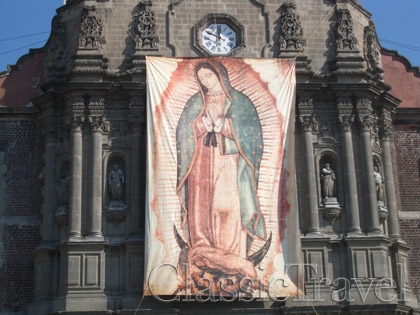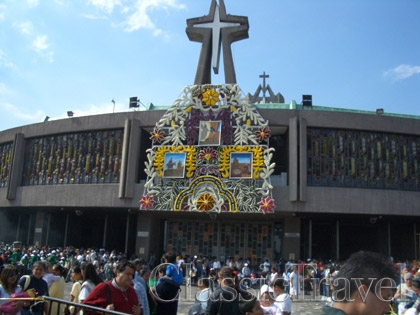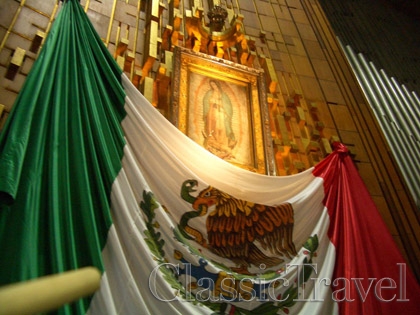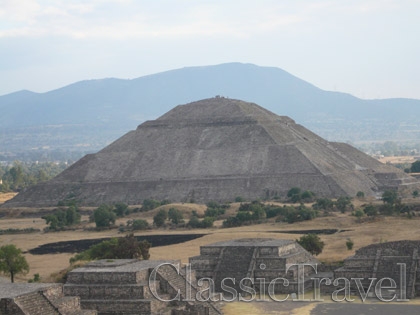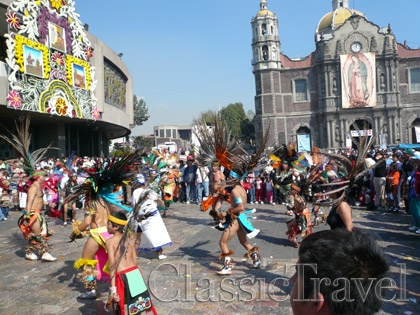 Mexico & Guadalupe
Pilgrimage to the Sanctuary of Guadalupe
Group trip dates: From 09 December 2023 To 14 December 2023
Duration: 6 Days
Take part in annual celebrations commemorating Our Lady of Guadalupe. Also included: Mexico City, Cholula, Puebla.
Optional trip to All Inlcusive Cancun.
Price includes flight from Newark
Day 1: Flight: Newark - Mexico City
Departure to Mexico City with United Airlines.
Airport pick up by our guide Gregory and transfer to hotel Casablanca in city center. On the way, a short tour of the capital. Welcome drink, dinner and overnight. (D)
Day 2: City tour Mexico City
After breakfast, drive to the famous Anthropological Museum, which will allow you to better understand the history of Mexico. Then we will visit the historical city center starting from the monuments located at the square called "Zocalo". We will visit the Church of Saint Catherine, the Cathedral, the National Palace with the famous frescoes of Diego Rivera and see the ruins of Templo Mayor, the most important Aztec temple, destroyed during the Spanish conquest. Dinner and overnight at the hotel. (B,D)
Day 3: Celebrations of Our Lady of Guadalupe - Teotihuacan
After breakfast, transfer to Basilica of Our Lady of Guadalupe for the main annual ceremonies celebrating the appearance of Our Lady of Guadalupe to St. Juan Diego. Participation in Holy Mass celebrated by the episcopate of Mexico as well as priests from around the world taking part in the ceremonies. Some time to observe the thousands of natives arriving and celebrating from all over the country to pay homage to Our Lady. In the afternoon, drive to the famous Teotihuacan ruins with huge pyramids of the Sun and the Moon as well as dozens of other buildings along the Avenue of the Dead. Farewell dinner buffet in a local restaurant by the pyramids. Return to our hotel in the city center. (B,D)
Day 4: Mexico City - Cholula - Puebla
Breakfast at hotel. Departure from the hotel heading towards Puebla. We will stop at Cholula, famous for 365 churches; we will see only a few of them - including the church situated on top of a huge pyramid from the times of Toltec and Aztecs. After arrival to Publa we'll check into our hotel. We will begin a tour of Puebla, known for the great religiousness of the inhabitants, founded in 1531 by monks from the Franciscan and Dominican orders, we will see the beautiful colonial center of the city with the cathedral and the church of Santo Domingo. Holy Mass. Dinner at a restaurant serving the famous "mole" - a chicken in chocolate with spicy spices. Overnight in a hotel in the city center. (B,D)
Day 5: Puebla - Tenango del Aire - return to Mexico City
After breakfast, drive to Chalco, situated in a wide valley, where John Paul II, in 1990, celebrated Mass for over 500,000 faithful. A visit to the Cathedral dedicated to Saint James the Apostle. Transfer to Tenango del Aire, where there is the Sanctuary of Divine Mercy, which is looked after by the Polish Pallottine Fathers. Meeting with the parish priest and brothers, who will discuss their often difficult pastoral work. Mass in the church of St. John the Baptist. Arrival in the city of Mexico for dinner and overnight. (B,D)
Day 6: Flight: Mexico City - Newark
Breakfast at hotel in Mexico City. Transfer to airport and non-stop flight to Newark. (B)
***End of the program***
Abbreviations: B - Breakfast, L - Lunch, D – Dinner
---
OPTIONAL TRIP TO CANCUN (Dec 15-18)
Day 6: Flight: Mexico City - Cancun
Breakfast at our hotel in Mexico City. Transfer to the airport and non-stop flight to Cancun. Welcome by a local guide and transfer to All-Inclusive hotel, located directly on the beach. (B,D)
Days 7-8: Cancun All-Inclusive Stay
Enjoy the facilities and attractions of our All Inclusive resort, taking advantage of the all entertainment that Cancun offers.
On the first day, an optional half-day trip to the nearby ruins of the city of Tulum situated strategically on a high cliff above the sea. Visiting the ruins of the city once surrounded by walls, where the worship of the so-called Descending God took place. Return to the hotel to rest. The second day open for leisure or other optional tours like a full-day excursion to the Chichen Itza pyramids. (B,L,D)
Day 9: Flight: Cancun - Newark
Free time in the morning. Afternoon transfer to the Cancun airport. Departure with United Airlines and non-stop flight to Newark. (B)
*** End of our trip to Mexico***
Abbreviations: B - Breakfast; L - Lunch; D - Dinner
Our Lady of Guadalupe
Also known as the Virgin of Guadalupe, Our Lady of Guadalupe is a celebrated Catholic icon of the Virgin Mary.
According to tradition, Juan Diego, a simple indigenous peasant, saw a vision of a young woman on December 9, 1531, while he was on the hill of Tepeyac near Mexico City, Mexico. He told the local bishop, who asked for some proof. Three days later, according to legend, the image of Mary appeared miraculously on his cloak when he was showing it to the bishop. Today the icon is displayed in the Basilica of Guadalupe nearby, one of the most visited Catholic shrines in the world. The Virgin of Guadalupe is Mexico's most popular religious and cultural image, with the titles "Queen of Mexico", "Empress of the Americas", and "Patroness of the Americas"; both Miguel Hidalgo (in the Mexican War of Independence) and Emiliano Zapata (during the Mexican Revolution) carried flags bearing the Our Lady of Guadalupe, and Guadalupe Victoria, the first Mexican president changed his name in honor of the icon.
Mexico City (Ciudad de México)
Mexico City is the Federal District (Distrito Federal), capital of the Mexico and seat of the federal powers of the Mexican Union. It is also the largest city in Mexico as well as the largest city in the Americas and the world's third largest metropolitan area by population, after Seoul and Tokyo. It is a federal entity within Mexico which is not part of any one of the 31 Mexican states but belongs to the federation as a whole. Mexico City is the most important political, cultural, and financial center in the country.
The city was originally built on an island of Lake Texcoco by the Aztecs in 1325 as Tenochtitlan, which was almost completely destroyed in the 1521 siege of Tenochtitlan , and subsequently redesigned and rebuilt in accordance with the Spanish urban standards. In 1524, the municipality of Mexico City was established, known as México Tenochtitlán, and as of 1585 it was officially known as La Ciudad de México (Mexico City). Mexico City served as the political, administrative and financial centre of a major part of the Spanish colonial empire. After independence from Spain was achieved, the Federal District was created in 1824.

Teotihuacan
Teotihuacan is an enormous archaeological site in the Basin of Mexico, containing some of the largest pyramidal structures built in the pre-Columbian Americas. Apart from the pyramidal structures, Teotihuacan is also known for its large residential complexes, the Avenue of the Dead, and numerous colorful, well-preserved murals. Additionally, Teotihuacan produced a thin orange pottery style that spread through Mesoamerica.
The city was thought to have been established around 200 BCE and continued to be built until about 250 CE. The city lasted until sometime between the 7th and 8th centuries CE. At its zenith in the first half of the 1st millennium AD, Teotihuacan was the largest city in the pre-Columbian Americas. At this time it may have had more than 200,000 inhabitants, placing it among the largest cities of the world in this period. Teotihuacan was even home to multi-floor apartment compounds built to accommodate this large population.
Price of main program (Dec. 10-15 only): $1,750
• Per person for 2 person room (min. 20 participants)
• Single supplement: $320
Price of complete program (Dec. 10-18): $2,450
• Per person for 2 person room (min. 20 participants)
• Single supplement: $590
Included in main program:
• Flights: Newark-Mexico City-Newark
• Accommodations in 4* hotels
• Two meals daily: breakfast and dinner
• Private expert tour guide
• Entrance fees to museums/churches as listed in itinerary
• All transfers by private bus
• Completing the trip according to given itinerary
• Accommodations in 4* hotels
Note: In the event the group counts more than 35 participants, a Pilot from Classic Travel will join the trip / pilgrimage
Included in optional trip to Cancun:
• Flights: Mexico City-Cancun-Newark
• Accommodations in 4* hotels All Inclusive
• All transfers by private bus
• Private expert tour guide
Not included in price:
• Services not mentioned in the itinerary as well as costs for obtaining/renewing passports
• Tips for local guides and drivers $50
• Insurance
• Luggage (check in, up to 50lb/23kg) $35 each way on United Airlines
Additional comments
• Price guaranteed up to two months prior to departure.
• In the event that there is an odd number of group participants, the person to last join the group will be required to buy a single supplement for the trip or, when possible, share a 3 person room.
• Anyone who is handicapped or who has a problem with walking must have the assistance of another person who will be fully responsible for this person throughout the whole pilgrimage
• In the event that 15 days before trip departure the number of trip participants is fewer than 25, a $100 additional payment will be required per person.
For non-US travelers: The cost of the trip includes flights from Newark. You can organize your flight to Newark either on your own or through Classic Travel when you make a booking on your chosen trip. In the "Trip cost", there are prices available with / without flights.
Trip Reservation
In order to secure a reservation for this trip each participant must pay a deposit of $500 and complete and sign a trip participation form. For guided group trips the number of space is limited – reservations are accepted in the order that they are received in. Full payment is required 60 days before departure. If the departure date is already within 60 days, then full payment is required immediately. If payment is not made in this time frame, the trip price as well as a spot reserved on the trip are not guaranteed.
For the quickest turnaround, please request your reservation through our website (use the "Request Reservation" option on the trip page). Our agents will email you with the invoice, payment options, all applicable forms, and instructions on how to complete the reservation. You may also request a reservation by emailing us at classic@classic-travel.com, or by calling our office toll free 1-800-774-6996.
Trip Cancellation
Any cancellation by a client must be made in writing and be acknowledged by the company in writing (mail/email/fax). The date on which the request to cancel is received by the company or its agents will determine the cancellation fees applicable. The cancellation fees are expressed hereafter as a percentage of the total tour price, excluding insurance.
• Cancellation 90 or more days before the trip: return of deposit, less $20 for office fees.
• Cancellation 89-60 days before departure: Loss of entire deposit.
• Cancellation 59-31 days before departure: 50% of cost of services booked.
• Cancellation less than 30 days before departure: 100% of cost of services booked.
Cancellation of trip by Classic Travel
Classic Travel reserves the right to cancel a trip under any circumstances. Cancellation cannot be made under 60 days to trip departure date, except under circumstances of "Force Majeure," which our agency has no influence or control over.
When it comes to trip cancellation, the client has the following options:
• Use the trip deposit payment towards another trip as a deposit or partial payment (if the amount is larger than $500).
• Receive a full refund of the paid deposit for the canceled trip
Classic Travel is not responsible for any costs incurred to the clients in preparing for the trip.
Required Documentation
Trip participants must be in possession of a valid passport, any applicable visas, and their insurance policy. Passport must be valid 6 months past the return date. It is highly recommended that participants have at least three photocopies of these documents. The trip participant accepts full responsibility for obtaining all such documents and is responsible for any adverse consequences resulting from missing or defective documentation. At the time of booking Classic Travel will advise on what documents are required for your trip.
Travel Documents Issued by Classic Travel
No later than two weeks prior to departure, all trip participants will receive via mail and/or email a packet that contains flight tickets (if purchased through Classic Travel), a detailed trip itinerary, additional information & brochures, baggage tags, and a list of suggested items to bring.
For the complete terms and conditions, click here.
Travel Insurance
Insurance is not included in the cost of this trip. Medical insurance is mandatory for all trips and it is up to the trip participant to choose an insurance package that fits their needs. Prior to the commencement of the trip, Classic Travel will request all trip participants to provide a copy of their travel insurance certificate. Medical insurance should cover accident and sickness expenses and emergency evacuation.
We also highly recommend that cancellation insurance is purchased. This will allow you to recover your costs in case you must cancel the trip due to an unforeseen circumstance (sickness or death of yourself or a close family member, extreme weather conditions, terrorism, loss of employment, etc).
Travel insurance can be purchased through Classic Travel - our plans are available to all our clients regardless of nationality and residency. We offer travel medical insurance as well as more comprehensive insurance packages that cover trip cancellation, trip interruption, travel delay, baggage loss, and more. During the reservation process we will provide you with our insurance options and rates.
You may choose to purchase travel insurance with us or with any other venue, so long as you are insured!
Click here to learn more about travel insurance.
Author: Emil & Camille (Trip Participant)

Travel date: November 2016

Date posted: 05 December 2016
Request Reservation
Back to all Packages