Kilimanjaro & Safari Tanzania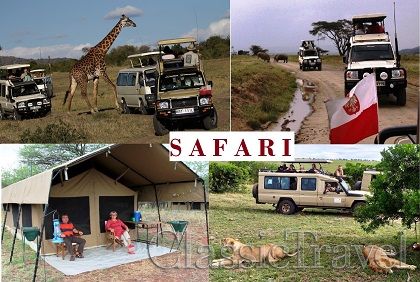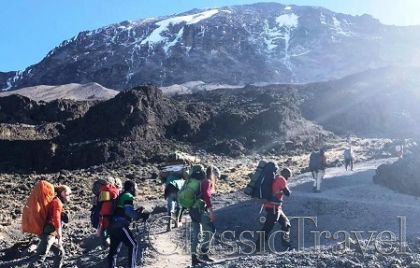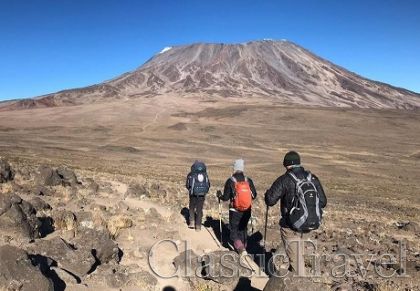 Kilimanjaro & Safari Tanzania
Date coming soon
Duration: 16 Days
The trip to the summit of Kilimanjaro is going to be a journey of a lifetime, you will have a chance to conquer the highest mountain in the Black Continent (5895m a.s.l.). Although the expedition to the Roof of Africa is not technically the most difficult, it will be a task that requires good physical condition and acclimatization due to the high altitude. In the second part of the trip we will go on a safari through the national parks of Tanzania. We will visit the Serengeti National Park, which, together with Masai Mara, is the largest and best known national park in the world. We will see Lake Manyara - called the jewel of Africa. In the Ngorongoro crater there will be a chance to see the famous Big Five. Experience an unforgettable African adventure with us!
$6,750
Price with flights from NYC
Day 1 (Fri. 10/21): Departure from New York
Meeting at JFK airport at 10:30am. Flight to Nairobi by Kenya Airways at 12:55 pm. Meals aboard.
Day 2 (Sat. 10/22): Arrival to Nairobi – flight to Kilimanjaro
Arrival to Nairobi at 10:25am. Short layover and flight to Kilimanjaro Airport at 1:30pm. Arrival at 2.30pm. Welcome by the guide and transfer to Kili Wonders Hotel - Moshi. Time for relax and accomodation. Dinner on your own.
Day 3 (Sun. 10/23): Arusha/Moshi – Acclimatization
Breakfast in the hotel. Free day. Time for relax a long flight and acclimatization. Prepare the luggage for 6 days trekking in Kilimanjaro. Welcome dinner in the evening. (B, D)
Day 4 (Mon. 10/24): Machame Gate (1,490) - Machame Camp (2,980m)
Hiking time: 7 hours, distanceć: about 18 km, habitat: Montane forest.
We will start our day early in the morning with a briefing followed by breakfast and a 45-minute drive from Moshi (910m) to the Machame village (1490m). The guides and porters prepare and pack the supplies and our equipment in the village. Depending on the condition of the road, we will drive from the village to the Machame gate or take muddy 3 km walk for about an 1 hour. After registering at the gate office, we start our ascent and enter the rain forest. We will receive a lunch box at the gate. There is a possibility of rain in the forest, which will transform the trail into a very soggy, muddy and slippery experience. Return to the camp for a dinner and overnight. The porters will boil drinking and washing water for us. Night temperatures can already drop to freezing point at Machame campsite. (B, L, D)
Day 5 (Tue. 10/25): Machame Camp - Shira Camp (3,840m)
Hiking time: 6 hours, distance: about 9 km, habitat: Moorland.
Early wake up at Machame camp. After the breakfast we will be climbing an hour or so to the top of the forest and then for 2 hours at a gentler gradient through the moorland zone. After a short lunch and rest, we continue up a rocky ridge onto the Shira plateau. By now you will be able to see in an easterly direction, the Western Breach with its stunning glaciers. We are now due west of Kibo and after a short hike we will reach the Shira campsite at 3840m. The porters will boil drinking and washing water, before serving dinner. The night at this exposed camp will even be colder than the previous night, with temperatures dropping to well below freezing. (B, L, D)
Day 6 (Wed. 10/26): Shira Camp - Barranco Camp (3,950m) przez Lava Tower (4,630m)
Hiking time: 7 hours, distance: about 15 km, habitat: semi desert.
The route now turns east into a semi desert and rocky landscape surrounding Lava Tower, where we reach an altitude of 4630m after about a 5 hours walk. Lunch will be served in a designated area before ascending the rocky scree path to Lava Tower (4630m). Definitely the toughest day so far. At this point, for the first time, some climbers can have symptoms of breathlessness, irritability and headaches. After lunch we descent again by almost 680m to the Barranco camping area and after reaching the high altitude of 4600m at Lava Tower, the true acclimatization benefit of this day becomes clear. This descent to Barranco camp takes about 2 hours and offers great opportunities to take some beautiful photographs of the Western Breach and Breach Wall. The camp is situated in a valley below the Breach and Great Barranco Wall, which should provide you with a memorable sunset while you wait for the preparation of your dinner and overnight at Barranco Camp site. (B, L, D)
Day 7 (Thu. 10/27): Barranco - Barafu Camp (4,550m)
Hiking time: 7 hours, distance: about 13 km, habitat: Alpine desert
We will pitch the tents on a narrow, stony, and dangerous ridge. It's important to familiarize yourself with the terrain before getting dark to avoid any accidents. The summit is now a further 1345m up and you will make the final ascent the same night. We have to prepare our equipment, ski stick and thermal clothing. This should include the replacement of headlamp and camera batteries and making sure that we have a spare set available as well. To prevent freezing it will be wise to carry water in a thermal flask. We recommend to go to bed around 7:00pm and try to get some precious rest and sleep for not more than 5 hours at Barafu Camp site. (B, L, D)
Day 8 (Fri. 10/28): Barafu Camp - Uhuru Peak (5895m) – Mweka Camp (3,100m)
Hiking time: 8 hours to reach Uhuru Peak, 7/8 hours to descend to Mweka, Distance: About 7 km's ascent – 23 km descent, Habitat: Stone scree and ice-capped summit.
We wake up around 11.30pm and after some tea and biscuits we shuffle off into the night. We will head in a northwesterly direction and ascend through heavy scree towards Stella Point on the crater rim. This 6-hour walk to Stella point is for many climbers, mentally and physically the most challenging on the route. At Stella Point (5685m) you will stop for a short rest and will be rewarded with the most magnificent sunrise you are ever likely to see (weather permitting). From Stella Point we will normally encounter snow all the way on our 2-hour ascent to Uhuru Peak.
The time we will spend on the summit will depend on the weather conditions. We can't stop here for too long, as it will be extremely difficult to start again due to cold and fatigue. It will be a day to remember for the rest of the life. The walk back to Barafu from the summit takes about 3 hours. Here we will have a well deserved but short rest and collect the rest of our gear, before heading down to Mweka Camp (3100m) for dinner and overnight. (B, L, D)
Day 9 (Sat. 10/29):Final descend from Mweka Camp to Mweka Gate (1,980m) - Arusha
Hiking/descend time: 3 hours. distance: about 15 km, habitat: forest
After the breakfast, from the Mweka Gate we will continue down into the Mweka Village. Normally it's a muddy and long hour walk. In the Mweka village we will head to the base Hotel in Moshi for a delicious hot lunch. Those climbers who reached Stella Point (5685m) will receive green certificates and those who reached Uhuru Peak (5895m) receive gold certificates. Dinner and overnight at Kili Wonders Hotel –Moshi or Tulia Hotel-Arusha. (B, L)
Day 10 (Sun. 10/30): Free day in Arusha
Relaxing at the hotel after climbing in Kilimanjaro and before safari. Arranging the luggage for safari conditions (hot weather). (B)
Day 11 (Mon. 10/31): Arusha - LAKE MANYARA
After the breakfast in the hotel, we will visit shortly Arusha and after lunch we will head for Lake Manyara National Park, which stretches from the base of the dramatic Rift Valley escarpment to the famous soda lake. It is truly one of the most beautiful places in Africa. As we enter the gate, the park is dramatically marked off by lush green vegetation consisting of tall trees emerging from the groundwater forest, which provides a home to troops of baboons and blue monkeys. Further down, the forest opens up into woodland, grassland and swamps. Further down lies the soda lake itself, where over 350 species of birds, including the lively flamingo, pelican, sacred ibis, grebe and stork, can be viewed. This park is a bird watcher paradise! Manyara is also known for its numerous buffalo, elephant, giraffe, impala, hippo, large variety of smaller animals and of course very exclusive tree climbing lions. Dinner and overnight in Manyara Wildlife Safrai Camp. (B, L, D)
Day 12 (Tue. 11/01): Lake Manyara - NGORONGORO CRATER - Serengeti National Park
After the breakfast we will depart for Serengeti National Park, driving through Nogorongo Highlands to reach 100-square mile Ngorongoro Crater. Here we will view game on the vast grasslands of the crater floor. The bottom of the crater is dotted with watering holes, shelters and almost 30.000 aniamals. Here we have a chance to see "Big Five": lion, buffalo, rhino, and leopard. The Ngorongoro Crater is considered to be one of the natural wonders of the world and is an amazing haven for wildlife throughout the year due to the permanent availability of grass and water. Late in the afternoon we will proceed to Serengeti National Park. Dinner and overnight in the Osinon Tented Camp. (B, L, D)
Day 13 (Wed. 11/02): SERENGETI NATIONAL PARK
Serengeti National Park is one of the greatest and most famous parks on the earth. It covers over 14,000 sq.km and offers amongst many others things, the biggest concentration of big cats in the world ( cheetahs, lions, leopards, etc.). Many different landscapes can be found in Serengeti: savannah with the bog plains to the south, hills and woods to the west, the kopjes area to the east and bush land to the north. Important rivers (Seronera, Banagi, Grumeti) also run through the park. During morning and afternoon game drive many different species of animals can be spotted, including elephant, buffalo, giraffe, antelope, hippo and crocodiles. Dinner and overnight in the Osinon Tented Camp (B, L, D)
Day 14 (Thu. 11/03): Serengeti Nat'l Park – Ndutu Lake - Karatu
After an early breakfast, we will take lunch boxes and head again to Serengeti National Park, to explore its south part and small lake Ndutu. We will see here a lot of different ungulates. Dinner and overnight in Ngorongoro Coffee Lodge in Karatu. (B, L, D)
Day 15 (Fri. 11/04): Karatu – Arusha
After the breakfast at the lodge, drive to Mto wa Mbu for a cultural visit with the local women to learn about their farming and financing groups. We will have local lunch with them and taste local african food. Late afternoon we will arrive to our hotel in Arusha for overnight and farewell dinner. (B, L, D)
Day 16 (Sat. 11/05): Flights: Arusha – Nairobi - Nowy Jork
After the breakfast in the hotel there will be free time for souvenier's shopping or optional visit to the cemetery of Polish war refugees in Tengeru.
Transfer to the airport in Kilimanjaro for a flight to Nairobi at 3:10 pm. Arrival in Nairobi o 4:10 pm. Departure to New York at 10:55pm. (B)
Day 17 (Sun. 11/06): Arrival to NYC/JFK
Arrival at JFK o 6:55am.
**End of the trip**
Abbreviations: B – Breakfast; L – Lunch; D- Dinner
Kilimanjaro
Mount Kilimanjaro or just Kilimanjaro with its three volcanic cones, Kibo, Mawenzi, and Shira, is a dormant volcano in Tanzania. It is the highest mountain in Africa and the highest single free-standing mountain in the world, with its summit of 5,895 metres (19,341 ft) above sea level and at about 4,900 metres (16,100 ft) high from its plateau base.
Kilimanjaro is also the fourth most topographically prominent peak on Earth. The mountain is part of Kilimanjaro National Park and is a major climbing destination. Because of its shrinking glaciers and disappearing ice fields, the mountain has been the subject of many scientific studies. Kilimanjaro is a large stratovolcano composed of three distinct volcanic cones: Kibo, the highest; Mawenzi at 5,149 metres (16,893 ft) and Shira, the lowest at 4,005 metres (13,140 ft). Uhuru Peak is the highest summit on Kibo's crater rim.
Serengeti National Park
The name 'Serengeti' comes from the Maasai language and appropriately means an 'extended place'.
The National Park is as big as Northern Ireland, but its ecosystem, which includes the Ngorongoro
Conservation Area, the Maswa Game Reserve and the Maasai Mara Game reserve (in Kenya), is roughly the size of Kuwait. It lies between the shores of Lake Victoria in the west, Lake Eyasi in the south, and the Great Rift Valley to the east.
As such it offers the most complex and least disturbed ecosystem on earth. A unique combination of diverse habitats enables it to support more than 30 species of large herbivores and nearly 500 species of birds.
Its landscape, originally formed by volcanic activity, has been sculpted by the concerted action of wind, rain and sun. It now varies from open grass plains in the south, savanna with scattered acacia trees in the center, hilly, wooded grassland in north, to extensive woodland and black clay plains to the west. Small rivers, lakes and swamps are scattered throughout. Rising in the southeast, there are the great volcanic massifs and craters of the Ngorongoro Highlands.
Ngorongoro Crater
This is What has Been compared To the Garden of Eden ± Ngorongoro Crater, an extinct collapsed volcano, rising 7,500 Feet at the rim with the floor being 2,000 feet below. This is all that remains of a once--‐vast volcano that is a part of the Great Rift Valley, the longest continuous crack in the earth is crust. Ngorongoro is floor extends 102 square miles with alkaline Lake Magadi in the center. The crater is an Island sanctuary, protected from the fluctuating weather conditions on the
Surrounding savanna. Stay on the craters rim for superb views from your quarters, where glass
Doors open to furnished verandas with breathtaking panoramas of Ngorongoro.
The big five are here: lion, elephant, rhino, leopard and buffalo, plus many of the plains herbivores, such as wildebeest, Thomson's gazelle, zebra and reedbuck, along with thousands of flamingo.
Group price: $6,750 with flights from NYC
• Per person for 2 person room min. 12 participants
• Single supplement (only in hotels and on safari): +$490
• If within 21 days of trip departure the number of participants is less than 12 but greater than 10, a $100 additional fee may apply.
Included in the price:
• International flights: NYC/JFK – Nairobi - Arusha – Nairobi – JFK
• Accomodation in 3* & 4* hotels in the city:
• during safari overnight in 2 persons tents, deluxe class, with bed and bathroom
• during trekking overnight in 2 persons wind resistant tents
• most meals as per itinerary - 3 meals a day
• camping equipment (kitchen tent with equipment, tables and chairs),
• private transportation with local guides and polish speaking group guide
• entrance fees to the national parks,
• local porters, cooks and drivers
• drinking water and juices
• itinerary according to the program
Not included in the price:
• Services not mentioned in the itinerary
• Tips for guide and driver about $150
• Mineral water and alcoholic drinks
• Insurance
Travel Insurance
Insurance is not included in the cost of this trip. Medical insurance is mandatory for all trips and it is up to the trip participant to choose an insurance package that fits their needs. Prior to the commencement of the trip, Classic Travel will request all trip participants to provide a copy of their travel insurance certificate. Medical insurance should cover accident and sickness expenses and emergency evacuation.
We also highly recommend that cancellation insurance is purchased. This will allow you to recover your costs in case you must cancel the trip due to an unforeseen circumstance (sickness or death of yourself or a close family member, extreme weather conditions, terrorism, loss of employment, etc).
Travel insurance can be purchased through Classic Travel - our plans are available to all our clients regardless of nationality and residency. We offer travel medical insurance as well as more comprehensive insurance packages that cover trip cancellation, trip interruption, travel delay, baggage loss, and more. During the reservation process we will provide you with our insurance options and rates.
You may choose to purchase travel insurance with us or with any other venue, so long as you are insured!
Click here to learn more about travel insurance.
Request Reservation
Back to all Packages