Grand Canyon Rafting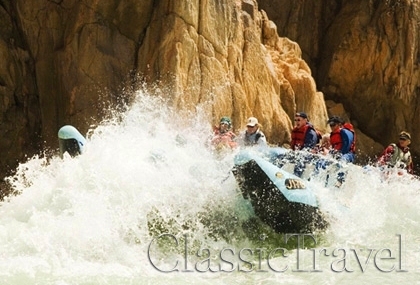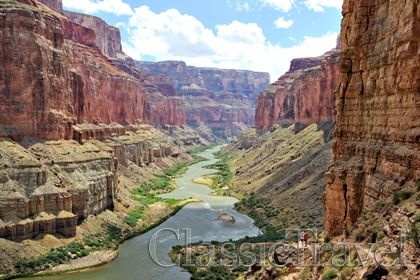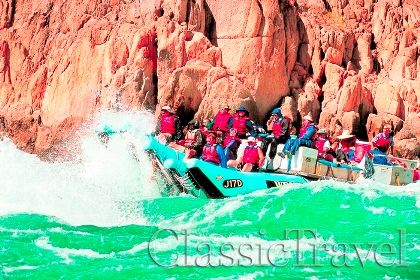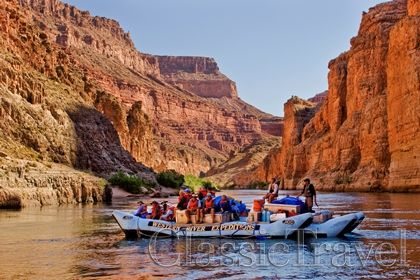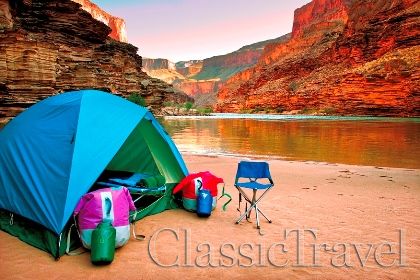 Grand Canyon Rafting
Deluxe Rafting - No Experience Necessary
Date coming soon
Available dates: Select dates from the end of May to the middle of September
Duration: 8 Days
Enjoy our deluxe 6 day rafting trip where you will experience the best views the Grand Canyon has to offer. Each day of the journey brings you different spectacles including trips to nearby waterfalls & swimming in the turqoise waters of the river. 5 and 4 day trips also available.
Estimated price
Day 1: Arrival in Las Vegas

Arrive in Las Vegas midday or evening, transfer by shuttle to The Flamingo Hotel & Casino. Rest of the day reserved for fre
e time and relaxing at the hotel tropical pool as well as enjoying the attractions that Las Vegas has to offer.
Days 2/3: Flight: Las Vegas - Marble Canyon / Redwall Cavern
Meet at 5am for transfer to the airport and flight to the launching point. Meet your crew and rafts at 7:30 AM at Marble Canyon, Arizona, a dramatic launch point on the Colorado River. After a short ride to the river's edge you'll load your duffle into a dry bag, listen to a brief orientation from your guides and set off down the river. Drift lazily, relax, and then savor lunch on a white sand beach. Mighty House Rock Rapid and the Roaring 20's set the pace for the next five days. Visit Vasey's Paradise, a spectacular cascade of water that supports a lush hanging garden, and Redwall Cavern, a vast chamber carved by the river. Hike breathtaking side canyons or visit ancient Anasazi granaries. (B,L,D; B,L,D)
Days 4/5: Little Colorado River - Deer Creek Falls
After a leisurely swim in the warm, turquoise waters of the Little Colorado River, you're on your way to Hance, Horn, Granite, Hermit and Crystal…all rapids respected for their huge waves. Western's knowledgeable guides lead short hikes to hidden Elves Chasm and to pounding Deer Creek Falls. (B,L,D; B,L,D)
Day 6: Havasu Canyon
Spend some time exploring the azure green waters of renowned Havasu Canyon where countless tranquil pools beckon you to find your own private piece of this water paradise or explore other possible side canyons and waterfalls throughout this section of the canyon. After dining on Western's famous evening cuisine, capture the dazzling glow of the sun on the canyon's towering walls before it slips into the horizon. (B,L,D)

Day 7: Final day of rafting/Lava Falls + canyon exit by Helicopter
Vulcan's Anvil, a volcanic cone mid-river, signals the approach of Lava Falls, the Colorado River's most notorious rapid. By late morning, you'll meet your helicopter that will take you over the canyon rim to Bar Ten Ranch for a shower and lunch, before your return flight to Las Vegas. Transfer to the Flamingo Hotel with a free afternoon and enjoy the many attractions that Las Vegas has to offer, including the famous casino resorts of Luxor, Bellagio, MGM Grand, Golden Nugget, Excalibur and many more. The Flamingo offers complimentary shuttle service between partner casinos every 30 minutes. "The Strip" is yours to explore by day, and especially by night. (B,L)
Day 8: Departure from Las Vegas
Free time until departure to Las Vegas International Airport.
Abbreviations: B - Breakfast; L - Lunch; D - Dinner
Physical Requirements
Our primary concern is participant safety. The nature of an outdoor adventure involves some physical exertion and also possible exposure to weather conditions that can fluctuate greatly due to heat, sun, wind, or rain. We do have experience accommodating persons with a wide range of physical challenges, disabilities, or medical and health conditions. However, we have found that for some people the fact of age, weight, lack of conditioning, heart or other disease, can endanger themselves, other guests or create additional hardship that diminishes the suitability or enjoyment of this type of vacation. Please consider these conditions in making your choice of river adventures. Please check with your physician prior to your trip if you have any medical or health condition or if you are taking any medications, and then notify us of how we can better help you with these conditions.
In general, participants will need to meet the following physical requirements:
• Fit into a Type 5 Life Jacket (maximum chest size is 52") required by the National Park Service
• Ability to securely grip ropes provided for handholds while running the rapids
• Enough agility to climb on and off the rafts
• Ability to navigate uneven terrain on hikes and in camp
• Carry your own dry bag which will include your 20-pound duffle bag along with the sleeping bag and ground cover we provide
Grand Canyon
The Grand Canyon is a steep-sided canyon carved by the Colorado River in the United States in the state of Arizona. It is largely contained within the Grand Canyon National Park, one of the first national parks in the United States. President Theodore Roosevelt was a major proponent of preservation of the Grand Canyon area, and visited it on numerous occasions to hunt and enjoy the scenery.
The Grand Canyon is 277 miles (446 km) long, up to 18 miles (29 km) wide and attains a depth of over a mile (6,000 feet / 1,800 metres) Nearly two billion years of the Earth's geological history have been exposed as the Colorado River and its tributaries cut their channels through layer after layer of rock while the Colorado Plateau was uplifted. While the specific geologic processes and timing that formed the Grand Canyon are the subject of debate by geologists, recent evidence suggests the Colorado River established its course through the canyon at least 17 million years ago. Since that time, the Colorado River continued to erode and form the canyon to its present-day configuration.
Before European immigration, the area was inhabited by Native Americans who built settlements within the canyon and its many caves. The Pueblo people considered the Grand Canyon ("Ongtupqa" in Hopi language) a holy site and made pilgrimages to it. The first European known to have viewed the Grand Canyon was García López de Cárdenas from Spain, who arrived in 1540.
Las Vegas
Las Vegas is the most populous city in Nevada, United States, the seat of Clark County, and an internationally renowned major resort city for gambling, shopping and fine dining. Las Vegas, which bills itself as The Entertainment Capital of the World, is famous for the number of casino resorts and associated entertainment. A growing retirement and family city, it is the 28th most populous city in the United States with an estimated population by the U.S. Census Bureau of 583,756 as of 2010. The 2010 population estimate of the Las Vegas metropolitan area was 1,951,269.
Established in 1905, Las Vegas officially became a city in 1911. With the growth that followed, at the close of the century Las Vegas was the most populous American city founded in the 20th century (a distinction held by Chicago in the 19th century). The city's tolerance for various forms of adult entertainment earned it the title of Sin City, and this image has made Las Vegas a popular setting for films and television programs. There are numerous outdoor lighting displays on Fremont Street, as well as elsewhere in the city.
"The Strip"
The Las Vegas Strip is an approximately 4.2-mile stretch of Las Vegas Boulevard South in Clark County, Nevada. The Strip lies in the unincorporated areas of Paradise and Winchester. Most of "the Strip" has been designated an All-American Road.
Many of the largest hotel, casino and resort properties in the world are located on the Las Vegas Strip. Nineteen of the world's 25 largest hotels by room count are on the Strip, with a total of over 67,000 rooms. One of the 19, the Las Vegas Hilton, is an "off-Strip" property but is located less than 0.5 miles east of the Strip.
One of the most visible aspects of Las Vegas' cityscape is its use of dramatic architecture. The modernization of hotels, casinos, restaurants, and residential high-rises on the Strip has established the city as one of the most popular destinations for tourists.
Starting price without flights: from $1,590
• per person for 6, 5 or 4 days of rafting, 2 nights in Las Vegas
• please contact us in regards to extending your stay in Las Vegas
• If the number of participants is under 14 (a full raft) then the trip can take place without a Classic Travel guide. Participants will be guided by local guides in English. Minimum 2 people. Prices vary according to length of rafting trip.

Included in price:
• 2 nights in Las Vegas at the Flamingo Hotel & Casino, 2-person standard rooms
• Cots, tents, sleeping bags, chairs & water resistant bags during rafting portion
• Experienced guide from Classic Travel
• River guides during rafting trip
• Roundtrip flights and transfers: Las Vegas, NV - Marble Canyon, AZ - Las Vegas, NV
• Exit the canyon by helicopter after the rafting trip is finished
• Nearly 180 miles of amazing scenery and over 60 rapids
• Short walks and longer, more difficult hikes (all optional) with beautiful scenery
• All meals are freshly prepared during rafting trip + breakfasts in Las Vegas
Not included in price:
• Services not mentioned in the itinerary
• Medical/Evacuation Insurance
• Flights to/from Las Vegas
• Transfers to/from Las Vegas Airport
• Gratuity for guides
Comments:
• Only ages 12 and up permitted
• For those looking to go fishing (morning/late afternoon) a 5-day license costs $32 (we do not provide fishing gear)
Trip Reservation
In order to secure a reservation for this trip each participant must pay a non-refundable deposit of $500 and complete and sign a trip participation form. For guided group trips the number of space is limited – reservations are accepted in the order that they are received in. Reserving a spot - a total of 14 spots available - for this trip has to be done far ahead of time based on high demand for this rafting adventure. We ask that deposits and applications be sent by September 15, 2014. We currently have one raft reserved for this date, which we sent a non-refundable deposit to hold. A second payment of $1,000 will be required by December 1st. Full/final payment is required 90 days before departure, or May 3, 2015. If the departure date is already within 90 days, then full payment is required immediately. If payment is not made in this time frame, the trip price as well as a spot reserved on the trip are not guaranteed. If 60 days before the trip the number of participants is under 12, a $100 per person additional payment will be required.
For the quickest turnaround, please request your reservation through our website (use the "Request Reservation" option on the trip page). Our agents will email you with the invoice, payment options, all applicable forms, and instructions on how to complete the reservation. You may also request a reservation by emailing us at classic@classic-travel.com, or by calling our office toll free 1-800-774-6996.
Trip Cancellation
Any cancellation by a client must be made in writing and be acknowledged by the company in writing (mail/email/fax). The date on which the request to cancel is received by the company or its agents will determine the cancellation fees applicable. The cancellation fees are expressed hereafter as a percentage of the total tour price, excluding insurance.
• Cancellation after paying deposit amounts to loss of deposit.
• Cancellation made 90 or more days before the trip: loss of first and second deposits.
• Cancellation 89-60 days before departure: 50% of cost of services booked.
• Cancellation less than 60 days before departure: 100% of cost of services booked.
Cancellation of trip by Classic Travel
Classic Travel reserves the right to cancel a trip under any circumstances. Cancellation cannot be made under 60 days to trip departure date, except under circumstances of "Force Majeure," which our agency has no influence or control over.
When it comes to trip cancellation, the client has the following options:
• Use the trip deposit payment towards another trip as a deposit or partial payment (if the amount is larger than $500).
• Receive a full refund of the paid deposit for the canceled trip
Classic Travel is not responsible for any costs incurred to the clients in preparing for the trip.
Required Documentation
Trip participants must be in possession of a valid passport, any applicable visas, and their insurance policy. Passport must be valid 6 months past the return date. It is highly recommended that participants have at least three photocopies of these documents. The trip participant accepts full responsibility for obtaining all such documents and is responsible for any adverse consequences resulting from missing or defective documentation. At the time of booking Classic Travel will advise on what documents are required for your trip.
Travel Documents Issued by Classic Travel
No later than two weeks prior to departure, all trip participants will receive via mail and/or email a packet that contains flight tickets (if purchased through Classic Travel), a detailed trip itinerary, additional information & brochures, baggage tags, and a list of suggested items to bring.
For the complete terms and conditions, click here.
Travel Insurance
Insurance is not included in the cost of this trip. Medical insurance is mandatory for all trips and it is up to the trip participant to choose an insurance package that fits their needs. Prior to the commencement of the trip, Classic Travel will request all trip participants to provide a copy of their travel insurance certificate. Medical insurance should cover accident and sickness expenses and emergency evacuation.
We also highly recommend that cancellation insurance is purchased. This will allow you to recover your costs in case you must cancel the trip due to an unforeseen circumstance (sickness or death of yourself or a close family member, extreme weather conditions, terrorism, loss of employment, etc).
Travel insurance can be purchased through Classic Travel - our plans are available to all our clients regardless of nationality and residency. We offer travel medical insurance as well as more comprehensive insurance packages that cover trip cancellation, trip interruption, travel delay, baggage loss, and more. During the reservation process we will provide you with our insurance options and rates.
You may choose to purchase travel insurance with us or with any other venue, so long as you are insured!
Click here to learn more about travel insurance.
Request Reservation
Back to all Packages