Classic Hawaii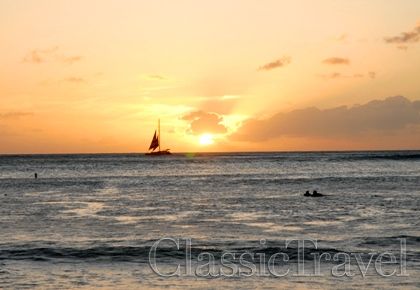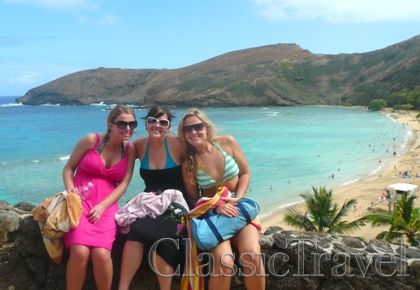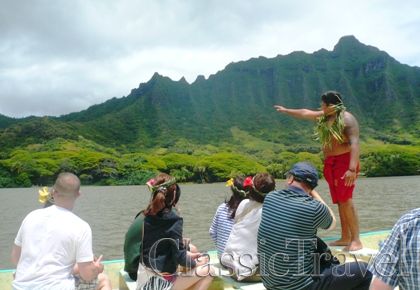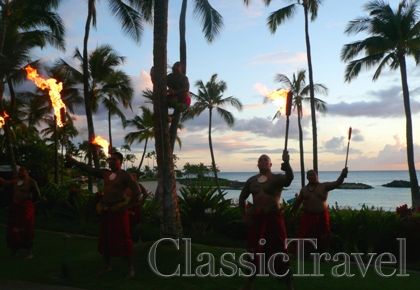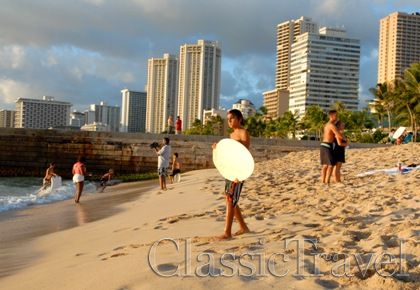 Classic Hawaii
Oahu, Lanikai, Luau
Available dates:
Duration: 9 Days
8 days: For those who only have a week of vacation, enjoy this scenic tour of Hawaii's most beautiful attractions

Day 1 Arrival in Hawaii
Arrive into Honolulu International Airport. Guests will be greeted with Lei's by their personal Polish speaking tour guide at the airport. Transfer to hotel in Waikiki.
Day 2 Tour of Waikiki - Welcome Dinner
After an early breakfast, meet with guide for a tour of Waikiki including best places to shop, eat, learn about history, and have a fun time. After answering all of your questions and giving suggestions your guide will take you back to your hotel and you will have the rest of the day off to enjoy the beautiful Waikiki Beach.
At about 5pm in the mid afternoon you will be escorted to the Hula Grill at the Outrigger Waikiki Beach Hotel for official welcome dinner. Your guide will give an orientation about the itinerary for the rest of the week and give you a preview of what is to come. Guests can enjoy the peaceful atmosphere of Tiki torches, palm trees, drinking tropical cocktails, Hawaiian music all the while watching the beautiful purple, pink, blue colors of the sunset over Diamond Head and the Pacific Ocean. (B,D)
Day 3 Tour of Oahu's East Coast Beaches
Early morning drive along the famous Pali Highway, with a stop along the way at Pali Lookout for beautiful panoramic shots. Breakfast at the best breakfast place on the island: Boots and Kimo's, for their signature Banana Macadamia Nut Pancakes.
After a filling breakfast we will head into the cute little beach town of Kailua. Around two hours of free time here for either kayaking, stand up paddle boarding or simply relaxing and enjoying the beautiful beach. We will also stop at the emerald blue waters of Lanikai beach, which is the #1 rated beach in the nation!
After enjoying Kailua Beach we continue our journey around the east side of the island to explore the different beaches of Oahu. We will stop at Sherwood's Beach, known for its milky white sand, and enjoy the views of the mountains along with the pine tree forests engulfing the edges of the beach. Our next stop is Sandy's Beach, where the majority of locals spend their time body boarding. On our way back we will stop by a few lookout points to take pictures of the lava formed cliffs and deep blue colors of the ocean. We will catch a glimpse of the back of Diamond Head, with a stop in Hawaii Kai for a sunset dinner at the Kona Brewery Company. (B,D)
Day 4 Free time & Afternoon Luau/Dinner
Free time this morning to enjoy what Waikiki Beach and Honolulu have to offer. Suggestions including taking a walk around Kapiolani Park, tanning at Waikiki Beach and booking a massage.
Early afternoon transfer from your hotel to the west side of the island to Ko'olina for a Luau. We will take a walk around the beautiful beach site to take pictures and enjoy tropical drinks at the bar. At 4:30pm the Luau begins, all guests will be seated.
The Luau will include fabulous entertainment to go along with a full buffet serving traditional Hawaiian style Kalua pork, chicken, pasta, rice, fish, salad, desserts, coffee, 2 drink tickets and even a mini buffet for kids. Following this delicious feast guests will have time to take pictures of the beautiful sunset. After this, the entertainment gets under way with our Samoan Chief and his friends guiding us through all the Polynesian countries, showing us their dances and traditions into the evening. (B,D)
Option #1: For an additional cost today can be instead spent visiting the Polynesian Cultural Center, a full day tour, which includes tours of every Polynesian Island's culture/tradition, IMAX movie, full buffet for dinner and plenty of live entertainment. (B,D)
Day 5 Northeast Oahu / North Shore's Pipeline Beach
After breakfast we set out to the Northeast side of the island, beginning with a tour of the beautiful Japanese Red Buddhist Temple, the Byodo-In Temple.
After the temple we will stop at the Macadamia Nut Farm in Kaneohe. Here we will be able to shop for souvenirs, sample Kona coffee and different flavors of macadamia nuts, and have a real jungle tour experience with real Polynesian jungle men. Next we will drive towards the North Shore, passing local shrimp farms and stopping at the famous Giovanni's Shrimp Shack for some garlic shrimp and rice and tropical smoothies.
After we eat we will take an extended drive through the "country" parts of Oahu and explore the beautiful North Shore of the island. Here we can expect to see turtles on the shorelines, little stands selling fresh fruit, and watch the sunset at famous Pipeline Beach. (B,L)
Day 6 Tour of Pearl Harbor / Free afternoon
Today's morning hours will be spent touring the Arizona Memorial at Pearl Harbor to see where the surprise attack by the Japanese on the Americans took place at the onset of World War II.
Free afternoon for optional tours/relaxing on the beach. (Optional tours listed below under Day 7)
Day 7 Free day / Optional tours / Farewell dinner
Enjoy your last full day both relaxing on the beach and doing individual sightseeing/shopping or taking part in our optional tours.
Optional Tours:
• Waimea Falls Trail tour
• Manoa Falls Trail tour
• Pearl Harbor tour
• Diamond Head Trail Tour
• Hanauma Bay
• Makapu'u Light House Trail Tour
Farewell dinner: We will all meet for a farewell dinner at the Oceanarium Seafood Buffet. This is all you can eat buffet that will include prime rib, crab legs, sushi, pasta, salads, desserts, tropical drinks and more. In the middle of the restaurant there is a massive aquarium with beautiful ocean water animals like huge sting ray, blowfish, angel fish, etc that we can enjoy while eating dinner. (B,D)
Day 8 Departure from Hawaii
Free time today to do last minute souvenir shopping, individual sightseeing and enjoy the beach. Transfer from your hotel to the airport for departure.
Abbreviations: B - Breakfast; L - Lunch; D - Dinner
Hawaii
Hawaii is the most recent of the 50 U.S. states (August 21, 1959), and is the only U.S. state made up entirely of islands. It is the northernmost island group in Polynesia, occupying most of an archipelago in the central Pacific Ocean.
Hawaii's diverse natural scenery, warm tropical climate, abundance of public beaches and oceanic surrounding, and active volcanoes make it a popular destination for tourists, surfers, biologists, and volcanologists alike. Due to its mid-Pacific location, Hawaii has many North American and Asian influences along with its own vibrant native culture. Hawaii has over a million permanent residents along with many visitors and U.S. military personnel. Its capital is Honolulu on the island of Oʻahu.
The state encompasses nearly the entire volcanic Hawaiian Island chain, which comprises hundreds of islands spread over 1,500 miles (2,400 km). At the southeastern end of the archipelago, the eight "main islands" are (from the northwest to southeast) Niʻihau, Kauaʻi, Oʻahu, Molokaʻi, Lānaʻi, Kahoʻolawe, Maui, and the island of Hawaiʻi. The last is by far the largest and is often called "The Big Island" to avoid confusion with the state as a whole. The archipelago is physiographically and ethnologically part of the Polynesian subregion of Oceania.
Hawaii is the 8th-least extensive, the 11th-least populous, but the 13th-most densely populated of the 50 U.S. states. Hawaii's coastline is approximately 750 miles (1,210 km) long, which is fourth in the United States after Alaska, Florida, and California.
Oahu
Oahu, known as "The Gathering Place", is the third largest of the Hawaiian Islands and the most populous of the islands in the U.S. state of Hawaii. The state capital, Honolulu, is on Oahu's southeast coast. Including small close-in offshore islands such as Ford Island and the islands in Kaneohe Bay and off the eastern (windward) coast, it has a total land area of 596.7 square miles (1,545.4 km2), making it the 20th largest island in the United States. In the greatest dimension, this volcanic island is 44 miles (71 km) long and 30 miles (48 km) across. The length of the shoreline is 227 miles (365 km). The island is the result of two separate shield volcanoes: Waiʻanae and Koʻolau, with a broad "valley" or saddle (the central Oʻahu Plain) between them. The highest point is Mt. Ka'ala in the Waiʻanae Range, rising to 4,003 feet (1,220 m) above sea level.
Hanauma Bay
Hanauma is a marine embayment formed within a volcanic cone and located along the southeast coast of the Island of Oʻahu (just east of Honolulu) in the Hawaiian Islands.
Hanauma is one of the most popular tourist destinations on the Island and has suffered somewhat from overuse (at one time accommodating over three million visitors per year). In 1956, dynamite was used to clear portions of the reef to make room for telephone cables linking Hawaii to the west coast of the US.
About 400 species of fish are known to inhabit the bay. Hanauma Bay is known for its abundance of Green sea turtles, Chelonia mydas, known as Honu. Hanauma is a nursery ground for the immature turtles, which have their nesting grounds at French Frigate Shoals. It is also known for its abundance of parrotfish.
Kailua Beach
Kailua Beach is often cited as Hawaii's best beach. It was ranked as the finest American beach in 1998 by coastal expert Dr. Stephen Leatherman, and then "retired" from subsequent consideration. It is crescent-shaped, about 2.5 miles (4.0 km) long and ranging between 50 and 150 feet (15 and 46 m) wide. The ocean bottom fronting the beach slopes gently to overhead depths without any coral heads. Light to medium waves support surfing and bodysurfing.
The steady trade winds make Kailua Beach one of the world's preeminent windsurfing and kitesurfing destinations. Robby Naish, first World Champion of windsurfing and Professional Windsurfers Association Hall of Fame inductee, grew up in Kailua.
Sea kayaking and stand-up paddleboarding to the protected seabird sanctuaries Flat Island and the Mokulua Islands, popularly known as "the Mokes", have become increasingly popular water activities at the beach.
Lanikai Beach
Lanikai Beach is located in Lanikai, a neighborhood within Kailua, on the windward coast of Oahu, Hawaii. This small 0.5 mile beach has been constantly ranked among the best beaches in the world. Adjacent to Lanikai Beach is a primarily upper-class residential area, because of this it is only accessible through public beach access paths. Although the beach itself is public property, it is not state land and is not a county beach park like many beaches in Hawaii. There is no public parking lot and the area lacks facilities like restrooms, showers or lifeguards.
During the weekdays the beach is relatively empty, but on weekends during peak tourist season it can become extremely crowded. Lanikai is a popular spot for photo shoots as renowned models and photographers frequent the place on nice days. Due to its position on the east side of the island, Lanikai is recognized as being great place to watch the moonrise over the Mokuluas, especially during the full moon.
Polynesian Cultural Center
The Polynesian Cultural Center (PCC) is a Polynesian-themed theme park or living museum located in Laie, on the northern shore of Oahu, Hawaii. Dedicated on October 12, 1963, the PCC occupies 42 acres (17 ha) owned by nearby Brigham Young University–Hawaii.
Within eight simulated tropical villages, performers demonstrate various arts and crafts from throughout Polynesia. Visitors may also take a free shuttle to tour the university and see the Laie Hawaii Temple visitor center of The Church of Jesus Christ of Latter-day Saints (LDS Church), the church that owns BYU–H and the PCC.
The center was opened in 1963 as a way to provide employment and scholarships for students at BYU-Hawaii and also to preserve the cultures of Polynesia. It has its roots in 1940s and 1950s hukilau and luau beach gatherings to earn money to rebuild a local chapel belonging to the LDS Church, which had been destroyed in a fire. "The Hukilau Song," made famous by Alfred Apaka, was written following the composer and song's original singer, Jack Owens's visit to Lāʻie's hukilau.
The PCC is one of the most frequently visited tourist destinations in Hawaii. In recent years, it claims to be Hawaii's number one paid attraction. The PCC is the venue for the annual World Fire Knife Dance Competition, in which contestants display their skill with blazing swords. Since opening its doors in 1963, over 32 million people have visited the center.
Diamond Head
Diamond Head is the name of a volcanic tuff cone on the Hawaiian island of Oʻahu and known to Hawaiians as Lēʻahi, most likely from lae 'browridge, promontory' plus ʻahi 'tuna' because the shape of the ridgeline resembles the shape of a tuna's dorsal fin. Its English name was given by British sailors in the 19th century, who mistook calcite crystals embedded in the rock for diamonds.
Diamond Head is part of the complex of cones, vents, and their associated eruption flows that are collectively known to geologists as the Honolulu Volcanic Series, eruptions from the Koʻolau Volcano that took place long after the volcano formed and had gone dormant. The Honolulu Volcanic Series is a series of volcanic eruption events that created many of Oʻahu's well-known landmarks, including Punchbowl Crater, Hanauma Bay, Koko Head, and Mānana Island in addition to Diamond Head.
Diamond Head, like the rest of the Honolulu Volcanics, is much younger than the main mass of the Koʻolau Mountain Range. While the Koʻolau Range is about 2.6 million years old, Diamond Head is estimated to be about 150,000 years old and extinct for 150,000 years.
The eruption that built up Diamond Head was probably very brief, lasting no more than a few days. It was probably explosive, since when the cinder cone was originally formed, the sea level is thought to have been higher and the vent burst erupted over a coral reef. Another factor probably contributing to the eruption's explosive nature was that rising magma would have come into contact with the water table. The eruption's relatively brief length is thought to explain why the cone today is so symmetrical.
A nearby eruption that took place at about the same time as the Diamond Head eruption was the eruption that built the Black Point lava shield. Since the type of eruptions that built Diamond Head tend to be monogenetic, geologists don't believe Diamond Head will erupt again.
Prices are currently TBD
Based on 4 travelers, double occupancy.
Prices depend on season and availability as well as number of travelers participating.
Included in price:
• Transfers to/from airport
• Lei greeting upon arrival
• Private tour guide during entire stay
• Hotel accommodations based on double occupancy
• Transfers during tour
Not included in price:
• Flights
• Meals (breakfast included in some hotels)
• Optional trips/activities
• Insurance
• Tips for guide(s)/driver(s)
• Entrance fees
Trip Reservation
In order to secure a reservation for this trip each participant must pay a deposit of $500 and complete and sign a trip participation form. For guided group trips the number of space is limited – reservations are accepted in the order that they are received in. Full payment is required 60 days before departure. If the departure date is already within 60 days, then full payment is required immediately. If payment is not made in this time frame, the trip price as well as a spot reserved on the trip are not guaranteed.
For the quickest turnaround, please request your reservation through our website (use the "Request Reservation" option on the trip page). Our agents will email you with the invoice, payment options, all applicable forms, and instructions on how to complete the reservation. You may also request a reservation by emailing us at classic@classic-travel.com, or by calling our office toll free 1-800-774-6996.
Trip Cancellation
Any cancellation by a client must be made in writing and be acknowledged by the company in writing (mail/email/fax). The date on which the request to cancel is received by the company or its agents will determine the cancellation fees applicable. The cancellation fees are expressed hereafter as a percentage of the total tour price, excluding insurance.
• Cancellation 90 or more days before the trip: return of deposit, less $50 for office fees.
• Cancellation 89-60 days before departure: Loss of entire deposit.
• Cancellation 59-31 days before departure: 50% of cost of services booked.
• Cancellation less than 30 days before departure: 100% of cost of services booked.
Cancellation of trip by Classic Travel
Classic Travel reserves the right to cancel a trip under any circumstances. Cancellation cannot be made under 60 days to trip departure date, except under circumstances of "Force Majeure," which our agency has no influence or control over.
When it comes to trip cancellation, the client has the following options:
• Use the trip deposit payment towards another trip as a deposit or partial payment (if the amount is larger than $500).
• Receive a full refund of the paid deposit for the canceled trip
Classic Travel is not responsible for any costs incurred to the clients in preparing for the trip.
Required Documentation
Trip participants must be in possession of a valid passport, any applicable visas, and their insurance policy. Passport must be valid 6 months past the return date. It is highly recommended that participants have at least three photocopies of these documents. The trip participant accepts full responsibility for obtaining all such documents and is responsible for any adverse consequences resulting from missing or defective documentation. At the time of booking Classic Travel will advise on what documents are required for your trip.
Travel Documents Issued by Classic Travel
No later than two weeks prior to departure, all trip participants will receive via mail and/or email a packet that contains flight tickets (if purchased through Classic Travel), a detailed trip itinerary, additional information & brochures, baggage tags, and a list of suggested items to bring.
For the complete terms and conditions, click here.
Travel Insurance
Insurance is not included in the cost of this trip. Medical insurance is mandatory for all trips and it is up to the trip participant to choose an insurance package that fits their needs. Prior to the commencement of the trip, Classic Travel will request all trip participants to provide a copy of their travel insurance certificate. Medical insurance should cover accident and sickness expenses and emergency evacuation.
We also highly recommend that cancellation insurance is purchased. This will allow you to recover your costs in case you must cancel the trip due to an unforeseen circumstance (sickness or death of yourself or a close family member, extreme weather conditions, terrorism, loss of employment, etc).
Travel insurance can be purchased through Classic Travel - our plans are available to all our clients regardless of nationality and residency. We offer travel medical insurance as well as more comprehensive insurance packages that cover trip cancellation, trip interruption, travel delay, baggage loss, and more. During the reservation process we will provide you with our insurance options and rates.
You may choose to purchase travel insurance with us or with any other venue, so long as you are insured!
Click here to learn more about travel insurance.
Request Reservation
Back to all Packages