Amazon Adventure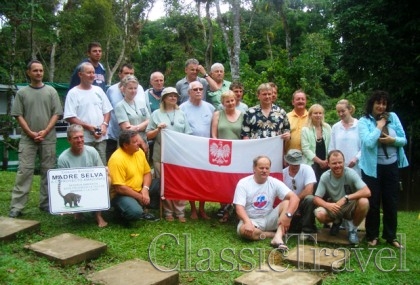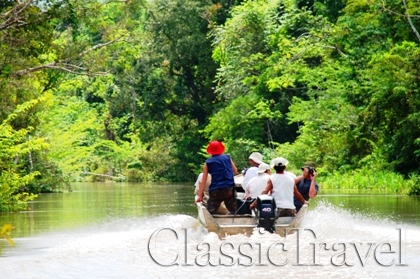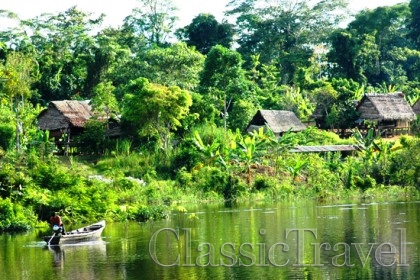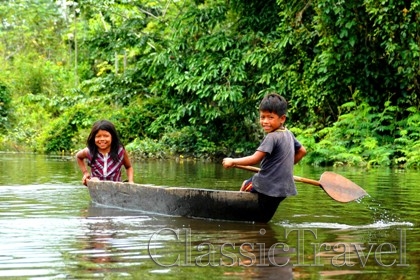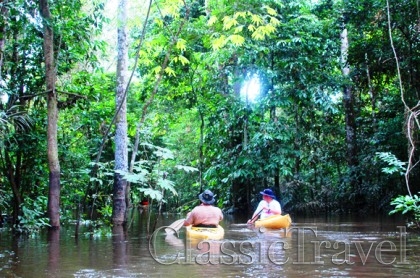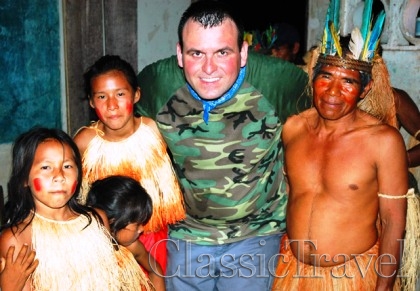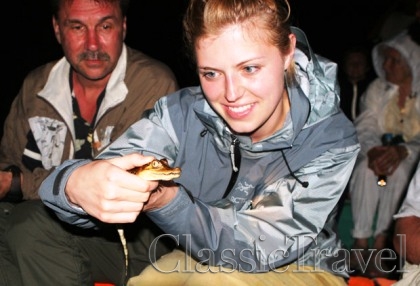 Amazon Adventure
Jungle Exploration
Group trip dates: From 18 May 2018 To 27 May 2018
Duration: 10 Days
Our past adventures to the Amazon were filled with unforgettable experiences. Our groups explored places that normally aren't available on commercial tours. Within the span of this trip we will immerse ourselves in the jungle, experiencing life as the locals do. We will visit native villages and travel by boat, kayak and motorboat to remote locations to observe the wildlife and flora/fauna.
$2,490
Day 1 (Fri. 5/18) Flight: Newark – Lima
Afternoon/evening departure from the US to Lima, Peru. Arrival either tonight or next morning (depending on flight time).
Day 2 (Sat. 5/19) Lima - Iquitos
Mid-morning departure from Lima with noon arrival in Iquitos. Airport reception and transfer to city center for a-la-carte lunch on the Iquitos boulevard. After lunch, transfer to port facilities to board your steel-hull riverboat the M/V Esperanza.

After a short orientation, travel a short distance downriver on the Amazon to Barrio Florida with opportunity to view and feed giant paiche fish and caimans. Continue downriver to our mooring location for the night at Yanamono, site of a historic rum-producing factory. Post dinner invitation to sample some of the product. Overnight aboard the M/V Esperanza. (B,L)
Day 3 (Sun. 5/20) Amazon - Ampiyacu River
In the morning, observe the rum production methods, and (if they aren't flooded out) see the giant water lilies that grow every year at this site. Breakfast on board, as we continue downriver and pass through Sapo Playa channel to the Napo River where there are excellent opportunities to see both pink and gray species of Amazon river dolphins. We'll take another channel back to the Amazon River, and on to the historic town of Pevas located at the mouth of the Ampiyacu River. Late afternoon/early evening arrival. After dinner, visit the town, and the studios of renowned Peruvian artist Francisco Grippa. Overnight on board the Esperanza at mooring on the Ampiyacu River. (B,L,D)
Day 4 (Mon. 5/21) Amazon - Bora/Witoto Indian community
Early morning bird-watching excursion by skiff on the Ampiyacu River for those interested. Breakfast on board boat, followed by visit to a Bora and Witoto Indian community. Opportunities for purchasing handicrafts. Lunch on board the M/V Esperanza while the boat sails up the Amazon River to the small town of Huanta at the mouth of the Orosa River, and on up the Orosa to the Madre Selva Biological Station. Opportunity to stay at land accommodations at the station. Optional short night-hike or night skiff expedition to look for wildlife. (B,L,D)
Day 5 (Tue. 5/22) Amazon - Yanayacu Tribe
Today we will visit a small village along the Apayacu river, inhabited by the Yanayacu tribe. We will have time to observe their lifestyle and interact with them. This evening we will reach the Saballillo Forest Reserve. This terrain, because of the mixed soil and varying topography, contains a variety of wetland, dryland and even sand grounds. Here we can witness the pink dolphins that swim in the river as well as ant farms. Many types of birds live in this region, in addition to a variety of fish and other amphibians. (B,L,D)
Day 6 (Wed. 5/23) Amazon - Orosa River - Yanamono
Morning visit to local indigenous and campesino communities, or fishing with the boat crew. Mid-day departure aboard Esperanza Riverboat, travel down the Orosa River and through Zapatilla Channel to the Amazon River. Travel upriver on the Amazon towards Iquitos. Mooring again for the night at Yanamono. Opportunity to revisit the aguardiente distillery and to try/purchase the various products that are made there. (B,L,D)
Day 7 (Thu. 5/24) Amazon - Monkey Island
Early AM departure from Yanamono. Following breakfast on board, a morning visit to Monkey Island, a rescue and rehabilitation center for primates originally raised as pets or orphaned by hunters. Most of the monkeys are free-roaming, and numbers of them have re-adapted to the wild. Visit to the orchards of fruit trees established on the island to provide food sources for the monkeys. After the visit, continue upriver to Iquitos with early to mid afternoon arrival and transfer to our hotel. Breakfast and lunch on board. Dinner will be family style at the local restaurant, featuring a wide array of regional specialties, and Peru's signature drink – the famous Pisco-sour. Overnight at our hotel in Iquitos. (B,L,D)
Day 8 (Fri. 5/25) Flight: Iquitos - Lima
Visit to Belen Market area and historic rubber-boom center of Iquitos during the remainder of the morning. Optional visit to the San Juan artisans market where a nice selection of wood and other jungle artifacts are available. Check-out from our hotel at noon. Lunch on your own at restaurants in town. Departure to Iquitos airport in the late afternoon to Lima as per your flight itinerary. (B)
Day 9 (Sat. 5/26) Tour of Lima / Departing flight
Breakfast at our hotel. Afterwards we will begin a city tour of Lima, the "City of Kings". We will see the entire center of Lima's old town as well as the Plaza de Armas. The cathedral located in Lima contains the sarcophagus of conquistador Francisco Pizarro. The tour will also include the Museum of Archaeology, familiarizing ourselves with the rich history of Peru. Among a few locations we will take time to visit monuments that memorialize Polish engineers. Free time in the afternoon for souvenir shopping. In the evening we will transfer to the airport for our departing flight. (B)
Day 10 (Sun. 5/27) Arrival in New York
Arrival in New York in the morning. Meals on board the plane.
*** End of Amazon Adventure ***
Classic Travel is organizing for the 4th time an exceptional expedition to the Amazon Tropical Forest. Guided by Dr. Devon Graham, this trip will provide you with experiences which are not normally available for tourists. During several days you will have a chance to see the Primary Amazon Jungle Forest with its native villages, black water lakes and streams, breathtaking flora and fauna. You will interact with local people – not normally in contact with visitors. You will witness the way of life in the remote areas of The Amazon Forest. You will also receive a very special and unique treatment while welcomed as a member of a genuine tribal family. The local Yagua Tribe will host you in their village and perform for you in a performance of native music, feast and story telling.
In April and May Amazon River is completely flooded, restricting foot travel. Therefore you will move around in native boats, kayaks and – for longer distances, from one biological station to another – aboard our ship Tucunare.
With your guide you will look for anaconda and swim with piranhas. And although the first depends on your luck, the second is guaranteed. The variety of flora and fauna of this great Tropical Forest will leave you speechless. Your day by day program will depend on many factors – mainly on weather, conditions of navigation on Amazon River and other unforeseen hazards. This will make your expedition even more special and individual. You will have a chance to be a real explorer and experience an adventure which cannot be replaced with a perfectly planned itinerary.
Our guide Devon Graham, Ph.D
Devon Graham is a tropical ecologist with a PhD degree from the University of Miami (1996), Florida. He has been fascinated with the tropics and with animals all of his life, and has lived, studied and worked in several countries in Africa and Central and South America, as well has having visited tropical areas of Australia and Asia. Devon's specialties are in ornithology and botany, but he is also interested in many other aspects of tropical ecology. Since 1994, he has spent extensive time each year in the Peruvian Amazon, and is currently President and Scientific Director of Project Amazonas, Inc., a non-profit humanitarian, conservation, and research organization which operate three field stations in the Peruvian Amazon. When not in the Amazon, Devon teaches in the Honors College of Florida International University, writes, and does consulting in the fields of tropical ecology and biology in Florida and elsewhere.
Price without international flights: $2,490
• per person in a 2 person room
• additional payment for single room (only in Iquitos and Lima): +$150
Included in price:
• all private transfers
• accommodations in 3* hotels in Lima and Iquitos
• local flight Lima - Iquitos - Lima
• city tour of Lima
• during Amazon river tour accommodations aboard the ship and/or Reserve bases
• all meals during Amazon river tour
• private pilot and guide for the entire trip
Not included in price:
• Peru departure tax-$30 (to be paid during departure)
• cost of optional services as well as costs not mentioned in program
• Tips for guides and drivers of buses and boats
Trip Reservation
In order to secure a reservation for this trip each participant must pay a deposit of $500 and complete and sign a trip participation form. For guided group trips the number of space is limited – reservations are accepted in the order that they are received in. Full payment is required 60 days before departure. If the departure date is already within 60 days, then full payment is required immediately. If payment is not made in this time frame, the trip price as well as a spot reserved on the trip are not guaranteed.
For the quickest turnaround, please request your reservation through our website (use the "Request Reservation" option on the trip page). Our agents will email you with the invoice, payment options, all applicable forms, and instructions on how to complete the reservation. You may also request a reservation by emailing us at classic@classic-travel.com, or by calling our office toll free 1-800-774-6996.
Trip Cancellation
Any cancellation by a client must be made in writing and be acknowledged by the company in writing (mail/email/fax). The date on which the request to cancel is received by the company or its agents will determine the cancellation fees applicable. The cancellation fees are expressed hereafter as a percentage of the total tour price, excluding insurance.
• Cancellation 90 or more days before the trip: return of deposit, less $20 for office fees.
• Cancellation 89-60 days before departure: Loss of entire deposit.
• Cancellation 59-31 days before departure: 50% of cost of services booked.
• Cancellation less than 30 days before departure: 100% of cost of services booked.
Cancellation of trip by Classic Travel
Classic Travel reserves the right to cancel a trip under any circumstances. Cancellation cannot be made under 60 days to trip departure date, except under circumstances of "Force Majeure," which our agency has no influence or control over.
When it comes to trip cancellation, the client has the following options:
• Use the trip deposit payment towards another trip as a deposit or partial payment (if the amount is larger than $500).
• Receive a full refund of the paid deposit for the canceled trip
Classic Travel is not responsible for any costs incurred to the clients in preparing for the trip.
Required Documentation
Trip participants must be in possession of a valid passport, any applicable visas, and their insurance policy. Passport must be valid 6 months past the return date. It is highly recommended that participants have at least three photocopies of these documents. The trip participant accepts full responsibility for obtaining all such documents and is responsible for any adverse consequences resulting from missing or defective documentation. At the time of booking Classic Travel will advise on what documents are required for your trip.
Travel Documents Issued by Classic Travel
No later than two weeks prior to departure, all trip participants will receive via mail and/or email a packet that contains flight tickets (if purchased through Classic Travel), a detailed trip itinerary, additional information & brochures, baggage tags, and a list of suggested items to bring.
For the complete terms and conditions, click here.
Travel Insurance
Insurance is not included in the cost of this trip. Medical insurance is mandatory for all trips and it is up to the trip participant to choose an insurance package that fits their needs. Prior to the commencement of the trip, Classic Travel will request all trip participants to provide a copy of their travel insurance certificate. Medical insurance should cover accident and sickness expenses and emergency evacuation.
We also highly recommend that cancellation insurance is purchased. This will allow you to recover your costs in case you must cancel the trip due to an unforeseen circumstance (sickness or death of yourself or a close family member, extreme weather conditions, terrorism, loss of employment, etc).
Travel insurance can be purchased through Classic Travel - our plans are available to all our clients regardless of nationality and residency. We offer travel medical insurance as well as more comprehensive insurance packages that cover trip cancellation, trip interruption, travel delay, baggage loss, and more. During the reservation process we will provide you with our insurance options and rates.
You may choose to purchase travel insurance with us or with any other venue, so long as you are insured!
Click here to learn more about travel insurance.
Request Reservation
Back to all Packages