Adventure Panama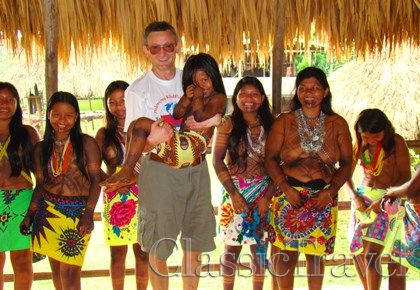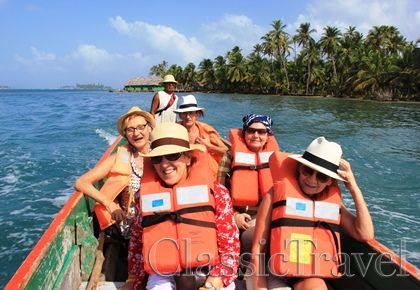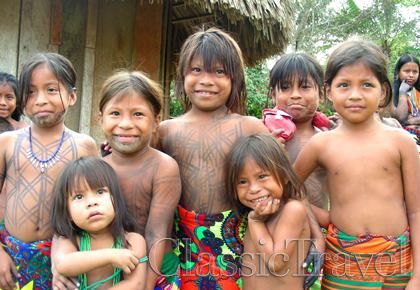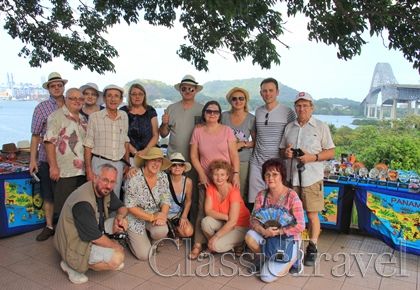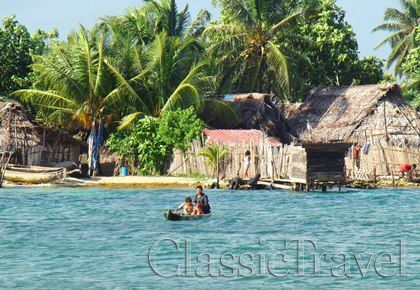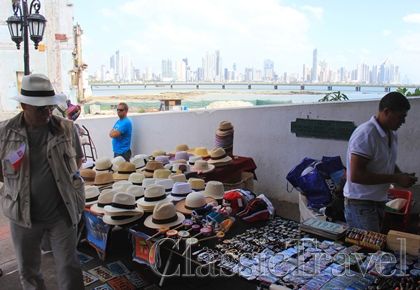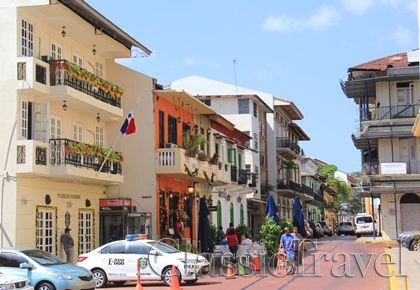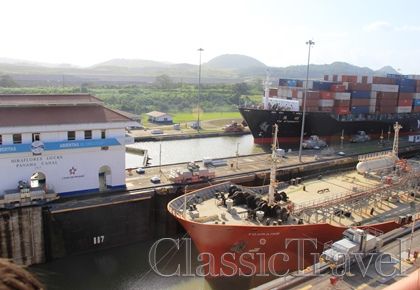 Adventure Panama
Panama Canal - San Blas - Kuna
Group trip dates: From 23 March 2024 To 30 March 2024
Duration: 8 Days
This journey will bring you culture shock without a doubt. After seeing Panama City and the Panama Canal - full of tehcnological and engineering wonders - we will visit the Emberas and Kuna (San Blas) natives, who live in areas that emanate lifestyles from 500 years ago when discovered by Christopher Columbus. Their traditions, folklore, outfits and cuisine will provide for a travel back through time. $100 discount for students
TBD
Day 1: Flight to Panama City
Arrival in Panama City in the afternoon/evening. Greeting by our local guide and transfer to the Aloft Panama.

Day 2: Panama City & the Panama Canal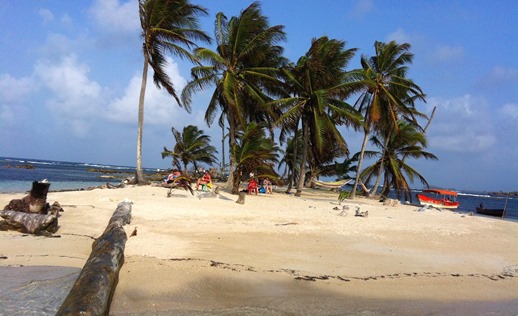 Today morning we will start a full day tour of Panama City as well as the famous Panama Canal, functioning since 1914. Our first steps will be in the historical part of town known as Casco Viejo as well as the fortress ruins conquered and destroyed by the famous pirate Captain Morgan in 1671. We will have lunch along the scenic Amador Causeway.
After lunch we'll begin touring the Panama Canal with a short visit to Culebra Cut, where engineers had the most difficult time digging the canal. Next we will traverse the canal on a large bridge above the canal to see the Miraflores section. We'll have a chance to see massive ships pass through the canal. The Panama Canal is 48 miles long with locks around 110 feet wide. The canal connects the Atlantic Ocean (Caribbean Sea) with the Pacific Ocean (Gulf of Panama). (B,L)
Day 3: Flight: Panama City - San Blas Islands
After a very early breakfast we will transfer to the airport. At 6:00am we depart Panama City for a short 50 minute flight to the San Blas Archipelago, inhabited by the Kuna Natives. Transfer by motor boat to our island. After lunch we'll take a boat ride to an inhabited island to learn the customs and traditions of life in this unique community, almost completely isolated from our 'civilized' world. Dinner and accommodations at the Yandup Island Lodge at San Blas. (B,L,D)
Day 4: San Blas Islands - Kuna Native visit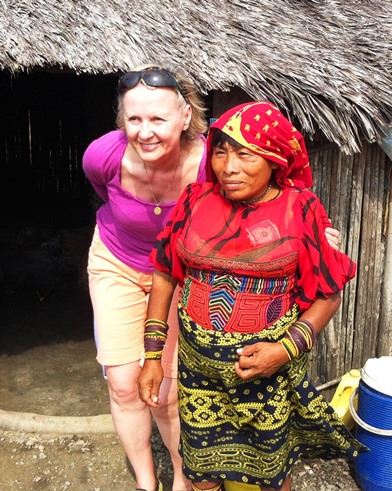 Full day stay at the San Blas Islands will be maximized to explore as many of the islands as possible, strewn out along miles of water, totaling around 370+ islands and isles! Only about 40 of these islands/isles are inhabited by the Kuna Natives. We will be surrounded by blue skies, crystal clear turqoise waters, lush greenery, clean sandy beaches and friendly natives in their colorful outfits. These are the conditions we will be living in for these two days, which will not be easy to part with!
This morning and afternoon we have plans to visit islands by motor boat for a few hours each. The underwater world surrounding the islands is equally as fascinating, taking as many chances as we can to go snorkeling, given SCUBA diving is prohibited in San Blas. (B,L,D)
Day 5: Flight: San Blas - Panama City
After an early breakfast we will transfer by boat to the airport and fly to Panama City at 7:05am. Today we will have a free day to explore Panama City and do some shopping/relaxing. An optional tour of Gatun Lake will be available, where we can interact with spider monkeys, ride along big ships passing in the canal and have a lunch in the jungle. (B)
Day 6: Panama City - Embera Native Village / Chagres River
After breakfast we'll begin our transfer to the Embera Village. We will take a short motor boat ride and be welcomed by natives playing music. There, with a local guide, we will begin our two day stay in accommodations similar to those of the local natives. Next we will eat a meal with the locals. In the early afternoon we will take a motor boat and then hike to a waterfall with free time to take a swim and relax. Dinner will be prepared by the locals right in our own hut. After dinner we will have a short evening trip by boat to observe the wildlife of the jungle at night. (B,L,D)
Day 7: Embera Native Village - Panama City
After an early wake up call we will hike through the jungle for 45 min before breakfast, guided by a local shaman. We will be looking to observe tropical birds, learn about plants used for various healing and spiritual purposes and more. After lunch there will be time to shop for souvenirs and observe villager dances and music performances. Afterwards we will return to our hotel in Panama City with a free afternoon. Our farewell dinner will be in Casco Viejo, the old part of town, where we can try traditional Panamanian food. (B,L,D)
Day 8: Departure from Panama City
After breakfast we will have free time until our transfer to the airport and departure from Panama City. (B)

Abbreviations: B – Breakfast; L – Lunch; D – Dinner
Panama Canal
The Panama Canal is a 77.1-kilometre (48 mi) ship canal in Panama that connects the Atlantic Ocean (via the Caribbean Sea) to the Pacific Ocean. The canal cuts across the Isthmus of Panama and is a key conduit for international maritime trade. There are locks at each end to lift ships up to Gatun Lake, an artificial lake created to reduce the amount of excavation work required for the canal, 26 metres (85 ft) above sea level. The current locks are 33.5 metres (110 ft) wide. A third, wider lane of locks is currently under construction and is due to open in 2015.

France began work on the canal in 1881, but had to stop because of engineering problems and high mortality due to disease. The United States took over the project in 1904, and took a decade to complete the canal, which was officially opened on August 15, 1914. One of the largest and most difficult engineering projects ever undertaken, the Panama Canal shortcut greatly reduced the amount of time taken for ships to travel between the Atlantic and Pacific Oceans, enabling them to avoid the lengthy, hazardous Cape Horn route around the southernmost tip of South America via the Drake Passage or Strait of Magellan. The shorter, faster, safer route to the U.S. West Coast and to nations in and around the Pacific Ocean allowed those places to become more integrated with the world economy.

During the construction era, ownership of the territory that is now the Panama Canal was first Colombian, then French, and then American. The US continued to control the canal and surrounding Panama Canal Zone until the 1977 Torrijos–Carter Treaties provided for handover to Panama. After a period of joint American–Panamanian control, the canal was in 1999 taken over by the Panamanian government, and is now managed and operated by the Panama Canal Authority, a Panamanian government agency.

Annual traffic has risen from about 1,000 ships when the canal opened in 1914, to 14,702 vessels in 2008, the latter measuring a total of 309.6 million Panama Canal/Universal Measurement System (PC/UMS) tons. By 2008, more than 815,000 vessels had passed through the canal, many of them much larger than the original planners could have envisioned; the largest ships that can transit the canal today are called Panamax. The American Society of Civil Engineers has named the Panama Canal one of the seven wonders of the modern world.
Kuna People
Guna, also known as Kuna or Cuna is the name of an indigenous people of Panama and Colombia. The current preferred and legally recognized spelling is Guna. In the Kuna language, they call themselves Dule or Tule, meaning "people", and the name of the language in Kuna is Dulegaya, meaning "Kuna language" (literally "people-mouth").
The Kunas were living in what is now Northern Colombia and the Darién Province of Panama at the time of the Spanish invasion, and only later began to move westward towards what is now Kuna Yala due to a conflict with the Spanish and other indigenous groups. Centuries before the conquest, the Kunas arrived in South America as part of a Chibchan migration moving east from Central America. At the time of the Spanish invasion, they were living in the region of Uraba and near the borders of what are now Antioquia and Caldas. Alonso de Ojeda and Vasco Nunez de Balboa explored the coast of Colombia in 1500 and 1501. They spent the most time in the Gulf of Uraba, where they made contact with the Kunas.
San Blas Islands
The San Blas Islands of Panama are an archipelago comprising approximately 378 islands and cays, of which only 49 are inhabited. They lie off the north coast of the Isthmus of Panama, east of the Panama Canal. They are home to the Kuna Indians and a part of the comarca (district) Guna Yala (also spelled Kuna Yala) along the Caribbean coast of Panama. The area is popular for sailing, as it is known for its beauty and lack of hurricanes.
Cost: TBD
• per person in 2 person room min. 12 participants
• Single supplement: TBD (only during stay in Panama City)
• $100 discount for students
Included in cost:
• Flights within Panama
• Most meals
• Accommodations in 3* hotels and at rustic camps and lodges with rooms for 2, 3 and 4 people
• Farewell dinner
• Private transport with local guides and a pilot who speaks English, Spanish and Polish
Not included:
• Services not mentioned in the itinerary
• Tips for pilot and drivers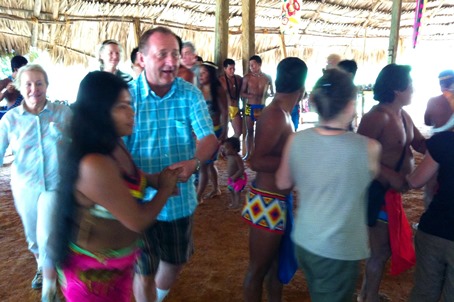 • Meals not mentioned in itinerary
• Flights to/from Panama
• Insurance
Additional comments:
• In the event that there is an odd number of group participants, the person to last join the group will be required to buy a single
supplement for the trip or, when possible, share a 3 person room.
• In the event that there are less than 12 participants for this trip 21 days before the trip date there will be an additional charge of maximum $100 per person.
Trip Reservation
In order to secure a reservation for this trip each participant must pay a deposit of $500 and complete and sign a trip participation form. For guided group trips the number of space is limited – reservations are accepted in the order that they are received in. Full payment is required 60 days before departure. If the departure date is already within 60 days, then full payment is required immediately. If payment is not made in this time frame, the trip price as well as a spot reserved on the trip are not guaranteed.
For the quickest turnaround, please request your reservation through our website (use the "Request Reservation" option on the trip page). Our agents will email you with the invoice, payment options, all applicable forms, and instructions on how to complete the reservation. You may also request a reservation by emailing us at classic@classic-travel.com, or by calling our office toll free 1-800-774-6996.
Trip Cancellation
Any cancellation by a client must be made in writing and be acknowledged by the company in writing (mail/email/fax). The date on which the request to cancel is received by the company or its agents will determine the cancellation fees applicable. The cancellation fees are expressed hereafter as a percentage of the total tour price, excluding insurance.
• Cancellation 90 or more days before the trip: return of deposit, less $50 for office fees.
• Cancellation 89-60 days before departure: Loss of entire deposit.
• Cancellation 59-31 days before departure: 50% of cost of services booked.
• Cancellation less than 30 days before departure: 100% of cost of services booked.
Cancellation of trip by Classic Travel
Classic Travel reserves the right to cancel a trip under any circumstances. Cancellation cannot be made under 60 days to trip departure date, except under circumstances of "Force Majeure," which our agency has no influence or control over.
When it comes to trip cancellation, the client has the following options:
• Use the trip deposit payment towards another trip as a deposit or partial payment (if the amount is larger than $500).
• Receive a full refund of the paid deposit for the canceled trip
Classic Travel is not responsible for any costs incurred to the clients in preparing for the trip.
Required Documentation
Trip participants must be in possession of a valid passport, any applicable visas, and their insurance policy. Passport must be valid 6 months past the return date. It is highly recommended that participants have at least three photocopies of these documents. The trip participant accepts full responsibility for obtaining all such documents and is responsible for any adverse consequences resulting from missing or defective documentation. At the time of booking Classic Travel will advise on what documents are required for your trip.
Travel Documents Issued by Classic Travel
No later than two weeks prior to departure, all trip participants will receive via mail and/or email a packet that contains flight tickets (if purchased through Classic Travel), a detailed trip itinerary, additional information & brochures, baggage tags, and a list of suggested items to bring.
For the complete terms and conditions, click here.
Travel Insurance
Insurance is not included in the cost of this trip. Medical insurance is mandatory for all trips and it is up to the trip participant to choose an insurance package that fits their needs. Prior to the commencement of the trip, Classic Travel will request all trip participants to provide a copy of their travel insurance certificate. Medical insurance should cover accident and sickness expenses and emergency evacuation.
We also highly recommend that cancellation insurance is purchased. This will allow you to recover your costs in case you must cancel the trip due to an unforeseen circumstance (sickness or death of yourself or a close family member, extreme weather conditions, terrorism, loss of employment, etc).
Travel insurance can be purchased through Classic Travel - our plans are available to all our clients regardless of nationality and residency. We offer travel medical insurance as well as more comprehensive insurance packages that cover trip cancellation, trip interruption, travel delay, baggage loss, and more. During the reservation process we will provide you with our insurance options and rates.
You may choose to purchase travel insurance with us or with any other venue, so long as you are insured!
Click here to learn more about travel insurance.
Author: Regina Dzidziul (Trip Participant)

Travel date: January 3-10, 2015

Date posted: 01 February 2015

Author: Paul B. (Trip Participant)

Travel date: March 2014

Date posted: 15 May 2014
Request Reservation
Back to all Packages