Mistyczna Etiopia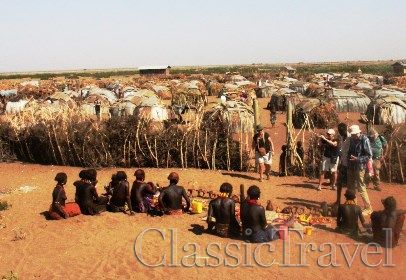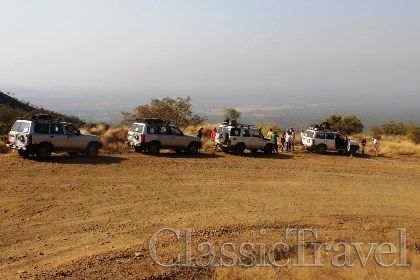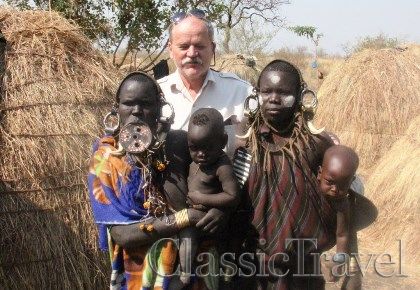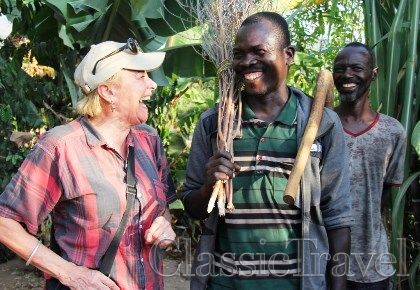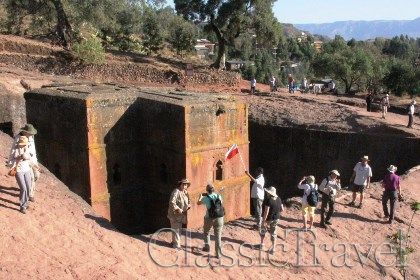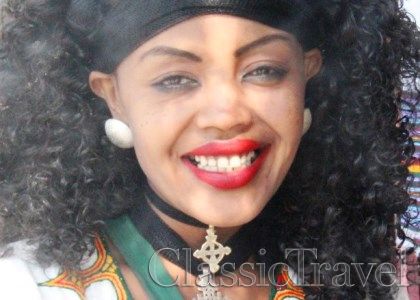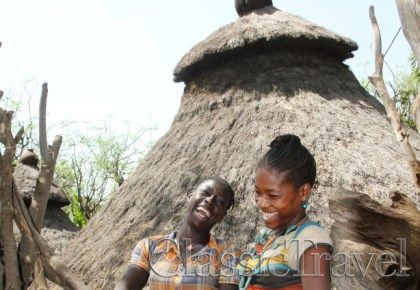 Mistyczna Etiopia
Etiopia to kraj na wskroś Mistyczny, pełny tajemnic z początków chrześcijaństwa w jej północnej części i niezliczonej ilości plemion i grup etnicznych na południu. Przepiękne pejzaże południa a szczególnie Doliny Omo, gdzie dominują plemiona Konso, Hammer, Dassanach i Mursi. Zachwycają i szokują one swoją odmiennością dekoracji ciała i ubioru oraz sposobem życia jak przed kilku wieków p.n.e. Na północy zaś dominują monoliczne klasztory i kościoły, oraz stele przypominające o bogatej historii królów z 5 i 6 wieku. Tutaj odwiedzimy antyczne stolice; Aksum z ukrytą Arką Przymierza. Ta turystyczna wyprawa to podróż w czasie, która pozwoli zrozumieć dlaczego Etiopia była jedynym krajem w Afryce, który nigdy nie był kolonią.
Autor: real cialis no generic

Data wystawienia: 28 sierpnia 2020

Autor: Sylvester Szliowski (Uczestnik wycieczki)

Data podróży: January 5-21, 2018

Data wystawienia: 19 kwietnia 2018
Dodaj komentarz lub oceń wycieczkę
Jeśli byłes uczestnikiem naszej wycieczki to napisz do nas i zamieść swoją recenzję. W zamian otrzymasz kupon o wartości $50! (wymagane minimum 300 liter z odstępami). Zachęcamy również użytkowników do zamieszczania komentarzy i opinii.
Dzień 1 (Sobota 9/21): Wylot z Newark
Spotkanie na lotnisku w Newark o 6:15pm przy stoisku linii Ethiopian Airways. Wylot o 9:15pm i całonocny przelot non stop do Addis Abeby. Międzylądowanie w Lome (Togo). Kolacja i śniadanie na pokładzie samolotu.
Dzień 2 (Niedziela 9/22): Przylot do Addis Abeby
Przylot o 9:30pm czasu lokalnego. Powitanie przez lokalnego przewodnika i przejazd do Hotelu Heyday (2,455m.n.p.m) na kolację powitalną (zależna od czasu przylotu) i nocleg. (D)
Dzień 3 (Poniedziałek 9/23): Zwiedzanie Addis Abeby
Po śniadaniu zwiedzanie miasta. Wizyta w Muzeum Narodowy gdzie mnożna zaznajomić się z historią i współczesnością Etiopii. Jego największą atrakcją jest Lucy, czyli szkielet naszego praprapra przodka odkryty w 1974 roku, a pochodzącego sprzed 3 milionów 200 tysięcy lat. Zwiedzanie katedry Św. Trójcy z grobem cesarza Hajle Selasje i uniwersytetu w jego dawnym pałacu, wzgórza Entoto z panoramą miasta – 3200 m n.p.m. Nocleg w hotelu Heyday. (B, D)
Dzień 4 (Wtorek 9/24): Przelot: Addis Abeba - Arba Minch.
Po śniadaniu transfer na lotnisko. Wylot o 12:10pm liniami Ethiopian Airways do Arba Minch. Po przylocie o 1:15pm wyjazd w góry do wsi plemienia Dorze. Dorze słyną ze specyficznych domów o kształcie głowy słonia. Te niesamowite budowle, powstałe z bambusowych tyczek i liści tzw. fałszywego bananowca sięgają 15 m wysokości i są bardzo trwałe. Wioska jest bardzo barwna, można tu kupić gliniane naczynia, tkaniny, po prostu ciekawe, niepowtarzalne pamiątki. Kolacja i nocleg w Paradise lub Emerald Lodge w Arba Minch. (B, D)
Dzień 5 (Sroda 9/25): Przejazd: Konso – Terytorium plemienia Hamer – Turmi
Po wczesnym śniadaniu wodne safari na jeziorze Czamo, podczas rejsu oglądanie krokodyli, hipopotamów i różnych gatunków ptaków (pelikany, czaple, orły). Następnie przejazd w kierunku miejscowości Turmi przez ziemie ludu Konso, podziwianie barwnych strojów, malowniczych tarasów na polach. Wsie Konso, ich kultura i sposób gospodarowania zostały wpisane na listę światowego dziedzictwa UNESCO. Wizyta we wsi Konso. Kolacja i nocleg w Buska Lodge lub Turmi Lodge w Turmi. (B, D)
Dzień 6 (Czwartek 9/26): Przejazd: Turmi – Omorate – Jinka, targ w Key Afer
Po śniadaniu jedziemy do Omorate (72 km) i przepłyniemy dłubankami przez rzekę Omo, aby zwiedzić wioskę mieszkańców Dassanech. Lunch w Turmi. Po drodze do Jinka wizyta na targu w Key Afer, odwiedzają go przedstawiciele plemion Ari, Bana i Tsemay. Obiad i nocleg w Omo Eco Lodge lub Jinka Resort w Jinka. (B, D)
Dzień 7 (Piątek 9/27): Wizyta we wsi plemienia Mursi
Po śniadaniu przejazd do Parku Narodowego Mago. Wycieczka do wsi plemienia Mursi. Mursi to najbardziej rozpoznawalne plemię z ludów zamieszkujących dolinę rzeki Omo. Wkraczającym w dorosłe życie kobietom Mursi rozcina się dolną wargę i umieszcza się w niej gliniany lub rzadziej drewniany krążek. Krążki wymienia się na coraz większe, najbardziej okazałe mają nawet 35 cm średnicy. Wielkość krążka i innych ozdób, których nie brakuje na całym ciele stanowią o atrakcyjności kobiety i jej wartości (narzeczony musi odpowiednio zapłacić rodzinie za przyszłą żonę). Mężczyźni z tego plemienia dekoracyjnie malują ciała, ich twarze najczęściej pokrywają białe wzory. Kolacja i nocleg w Omo Eco Lodge lub Jinka Resort . (B, D)
Dzień 8 (Sobota 9/28): Przelot: Jinka – Aksum
Wylot z lotniska w Jinka o 1:50pm do Aksum. Międzylądowanie w Addis Abebie. Po przybyciu do Aksum o godzinie 5:50pm, transfer do hotelu Consolar lub Brana na kolację i nocleg. (B, D)
Dzień 9 (Niedziela 9/29): Całodzienne zwiedzanie Aksum – miasta Arki Przymierza
Całodzienne zwiedzanie Aksum, (lista UNESCO), kolebki chrześcijaństwa etiopskiego. Zwiedzanie przedchrześcijańskich obelisków, katedry Najświętszej Marii Panny, pozostałości pałacu królowej Saby, muzeum archeologicznego i królewskich grobowców. Podziwianie kaplicy, w której przechowywana jest legendarna Arka Przymierza. Kolacja i nocleg w hotelu Consolar lub Brana w Aksum. (2.130m). (B, D)
Dzień 10 (Poniedziałek 9/30): Przelot: Aksum – Lalibela
Po śniadaniu transfer na lotnisko, następnie przelot do Lalibeli (lista UNESCO), uznawanej za ósmy cud świata. Wylot o godzinie 11:50 am. Przylot o 12:30pm. Zakwaterowanie w hotelu zlokalizowanym w centrum miasta. Tego samego dnia zwiedzanie wykutych w skałach, niesamowitych kościołów z XIII w. To najważniejszy punkt na etiopskim szlaku historycznym. Jak głosi legenda przy budowie jedenastu kościołów w dzień pracowali robotnicy nocą aniołowie. Kościół św. Jerzego ma kształt krzyża greckiego, Bete Medhane Alem to największy monolityczny kościół na świecie. Kolacja i nocleg w hotelu Tukul Village w Lalibeli. (B, D)
Dzień 11 (Wtorek 10/1): Lalibela - Bahir Dar
Po śniadaniu transfer na lotnisko, następnie przelot do Bahir Daru. Wylot w samo południe. Po przylocie o 2:20 pm, wycieczka do wodospadów na Nilu Błękitnym (30 km od Bahir Dar ). Zakwaterowanie i kolacja w hotelu Delano w Bahir Dar. (B, D)
Dzień 12 (Sroda 10/2): Bahir Dar. Przelot do Addis Ababa
Po śniadaniu rejs łodzią po największym etiopskim jeziorze Tana. Na wyspach i półwyspach oblanych jego wodami znajduje się ponad 20 kościołów i klasztorów. Zobaczymy jeden z najpiękniejszych - Ura Kidane Mihret z XVI w., zlokalizowany na półwyspie Zagwe. Po jeziorze do dziś pływają łodzie wykonane z papirusu. U tutejszych wieśniaków Thor Heyerdal pobierał nauki przed wyprawą Ra. Popłyniemy łodzią do miejsca gdzie Nil Błękitny bierze swój początek, jeśli dopisze szczęście, spotkamy hipopotamy. Następnie transfer na lotnisko i 1h przelot do Addis Abeby. Wylot o godzinie 6:00 pm. Przylot o 7:00 pm. Wieczorem pożegnalna kolacja z tradycyjną muzyką i pokazem tańców w typowej etiopskiej restauracji. Nocleg w hotelu Heyday. (B, D)
Dzień 13 (Czwartek 10/3): Przelot: Addis Ababa - Newark
Po śniadaniu transfer na lotnisko na przelot powrotny do domu. Wylot o 8:30 am liniami ET # 508. Śniadanie i lunch na pokładzie samolotu. Przylot do Newark o 7:15pm.
* * * Zakończenie wycieczki * * *
Wyjaśnienie: B- Śniadanie; L – Lunch; D- Kolacja
Ethiopia
Ethiopia, officially the Federal Democratic Republic of Ethiopia is a country located in the Horn of Africa. It shares borders with Eritrea to the north and northeast, Djibouti and Somalia to the east, Sudan and South Sudan to the west, and Kenya to the south. With over 100 million inhabitants, Ethiopia is the most populous landlocked country in the world, as well as the second-most populous nation on the African continent. It occupies a total area of 1,100,000 square kilometres (420,000 sq mi), and its capital and largest city is Addis Ababa.

Some of the oldest evidence for anatomically modern humans has been found in Ethiopia. It is widely considered as the region from which modern humans first set out for the Middle East and places beyond. According to linguists, the first Afroasiatic-speaking populations settled in the Horn region during the ensuing Neolithic era. Tracing its roots to the 2nd millennium BC, Ethiopia's governmental system was a monarchy for most of its history. In the first centuries AD, the Kingdom of Axum maintained a unified civilization in the region, followed by the Ethiopian Empire circa 1137. During the late 19th-century Scramble for Africa, Ethiopia was the only territory in Africa to defeat a European colonial power and retain its sovereignty. Many newly-independent nations on the continent subsequently adopted its flag colours. Ethiopia was also the first independent member from Africa of the 20th-century League of Nations and the United Nations. In 1974, the Ethiopian monarchy under Haile Selassie was overthrown by the Derg, a communist military government backed by the Soviet Union. In 1987, the Derg established the People's Democratic Republic of Ethiopia, but it was overthrown in 1991 by the Ethiopian People's Revolutionary Democratic Front, which has been the ruling political coalition since.

Ethiopia's ancient Ge'ez script (Ethiopic script) is one of the oldest alphabets still in use in the world. The Ethiopian calendar, which is approximately seven years and three months behind the Gregorian calendar, co-exists alongside the Borana calendar. A majority of the population adheres to Christianity (mainly the Ethiopian Orthodox Tewahedo Church and P'ent'ay), whereas around a third follows Islam (primarily Sunni). The country is the site of the Migration to Abyssinia and the oldest Muslim settlement in Africa at Negash. A substantial population of Ethiopian Jews, known as Bete Israel, also resided in Ethiopia until the 1980s. Ethiopia is a multilingual nation with around 80 ethnolinguistic groups, the four largest of which are the Oromo, Amhara, Somali and Tigrayans. Most people in the country speak Afroasiatic languages of the Cushitic or Semitic branches. Additionally, Omotic languages are spoken by ethnic minority groups inhabiting the southern regions. Nilo-Saharan languages are also spoken by the nation's Nilotic ethnic minorities.

Ethiopia is the place of origin of the coffee bean, which was first cultivated at Kefa, one of the 14 provinces in the old Ethiopian administration. It is a land of natural contrasts, with its vast fertile west, jungles, and numerous rivers, and the world's hottest settlement of Dallol in its north. The Ethiopian Highlands are the largest continuous mountain ranges in Africa, and the Sof Omar Caves contains the largest cave on the continent. Ethiopia also has the most UNESCO World Heritage Sites in Africa. Additionally, the country is one of the founding members of the UN, the Group of 24 (G-24), the Non-Aligned Movement, G-77 and the Organisation of African Unity. Its capital city Addis Ababa serves as the headquarters of the African Union, the Pan African Chamber of Commerce and Industry, the United Nations Economic Commission for Africa, the African Standby Force, and many of the global NGOs focused on Africa. In the 1970s and 1980s, Ethiopia experienced civil conflicts and communist purges, which hindered its economy. The country has since recovered and now has the largest economy (by GDP) in East and Central Africa. According to Global Fire Power, Ethiopia also has the 41st most powerful military in the world, and the third most powerful in Africa.
Addis Ababa
Addis Ababa or Addis Abeba (the spelling used by the official Ethiopian Mapping Authority), is the capital and largest city of Ethiopia. It has a population of 3,384,569 according to the 2007 population census, with annual growth rate of 3.8%. This number has been increased from the originally published 2,738,248 figure and appears to be still largely underestimated.

As a chartered city, Addis Ababa has the status of both a city and a state. It is where the African Union is and its predecessor the OAU was based. It also hosts the headquarters of the United Nations Economic Commission for Africa (ECA) and numerous other continental and international organizations. Addis Ababa is therefore often referred to as "the political capital of Africa" for its historical, diplomatic and political significance for the continent.

The city is populated by people from different regions of Ethiopia. It is home to Addis Ababa University.
Konso
The Konso, also known as the Xonsita, are a Lowland East Cushitic-speaking ethnic group primarily inhabiting south-central Ethiopia.

History

According to Hallpike (1972), Konso family traditions indicate that they are a composite people, both physically and culturally, with members originally hailing from all the surrounding areas.

In terms of physical appearance, the Konso tend to be small and wiry, with high cheekbones and pointed chins. Skin color ranges from reddish brown to almost black, but is dark brown on average. Some individuals more closely resemble the Oromo, possessing thin lips and greater stature; others have a distinctly more 'africoid' phenotype and are much shorter. According to Hallpike (1972), the latter somatic characteristics are more marked amongst Konso women. George Murdock (1959) attributes the pronounced 'negroid' influence on the Konso in general to early inter-mixture with the agricultural pre-Nilotes, who entered the Ethiopian highlands about 5000 years ago.
Hamer
Hamer is one of the woredas in the Southern Nations, Nationalities, and Peoples' Region of Ethiopia. It is named after Hamer people who are living at this woreda. Part of the Debub Omo Zone, Hamer is bordered on the south by Kenya, on the southwest by Kuraz, on the west by Nyangatom, on the north by Bena Tsemay, and on the east by the Oromia Region; the Weito River separates it from the Oromia Region. Hamer includes part of Lake Chew Bahir along its southeastern border. The administrative center is Dimeka; other towns in include Turmi. Hamer was part of former Hamer Bena woreda.
Mursi
The Mursi (or Mun as they refer to themselves) are a Nilotic pastoralist ethnic group in Ethiopia. They principally reside in the Debub Omo Zone of the Southern Nations, Nationalities, and People's Region, close to the border with South Sudan. According to the 2007 national census, there are 7,500 Mursi, 448 of whom live in urban areas; of the total number, 92.25% live in the Southern Nations, Nationalities, and People's Region (SNNPR).

Surrounded by mountains between the Omo River and its tributary the Mago, the home of the Mursi is one of the most isolated regions of the country. Their neighbors include the Aari, the Banna, the Bodi, the Karo, the Kwegu, the Nyangatom and the Suri. They are grouped together with the Me'en and Suri by the Ethiopian government under the name Surma.
Axum
Axum or Axum is a city in the northern part of Ethiopia. The town has a population of 56,500 residents (2010), and is governed as an urban wäräda.

The original capital of the Kingdom of Axum, it is one of the oldest continuously inhabited places in Africa. Axum was a naval and trading power that ruled the region from about 400 BCE into the 10th century. In 1980 UNESCO added Axum's archaeological sites to its list of World Heritage Sites due to their historic value.

Located in the Mehakelegnaw Zone of the Tigray Region near the base of the Adwa mountains, Axum has an elevation of 2,131 metres (6,991 ft). Axum is surrounded by La'ilay Maychew wäräda.
Lalibela
Lalibela is a town in Amhara Region, northern Ethiopia famous for monolithic rock-cut churches. The whole of Lalibela offers an exceptional testimony to the medieval and post-medieval civilization of Ethiopia. Lalibela is one of Ethiopia's holiest cities, second only to Axum, and a center of pilgrimage. Unlike Axum, the population of Lalibela is almost completely Ethiopian Orthodox Christian. Ethiopia is one of the earliest nations to adopt Christianity in the first half of the fourth century, and its historical roots date to the time of the Apostles. The churches themselves date from the seventh to thirteenth centuries, and are traditionally dated to the reign of the Zagwe dynasty king Gebre Mesqel Lalibela (r. ca. 1181–1221 AD).

The layout and names of the major buildings in Lalibela are widely accepted, especially by local clergy, to be a symbolic representation of Jerusalem. This has led some experts to date the current church forms to the years following the capture of Jerusalem in 1187 by Muslim leader, Saladin.

Lalibela is located in the Semien Wollo Zone of the Amhara Region, at roughly 2,500 meters above sea level. It is the main town in Lasta woreda, which was formerly part of Bugna woreda. The Rock-Hewn Churches were declared a UNESCO World Heritage Site in 1978.
Powrót do początku